Times are a-changing and no longer do we celebrate the nuclear family. It's no longer how things are – maybe it didn't ever really exist.
Now, it's time we celebrated the sheer complexity of the 21st century family, and the abundance of joys that come with it. We've come to learn that no family is simple, but all families are great because of this. And no two families are the same!
49% of over 2000 people surveyed consider their relationship with their family to be 'very good'.
27% of people surveyed defined family as 'whoever you choose it to be.'
15% of people we surveyed have at least one step-sibling.
42% of people we surveyed have required legal assistance in family law. Slater and Gordon Lawyers can offer advice if this applies to you.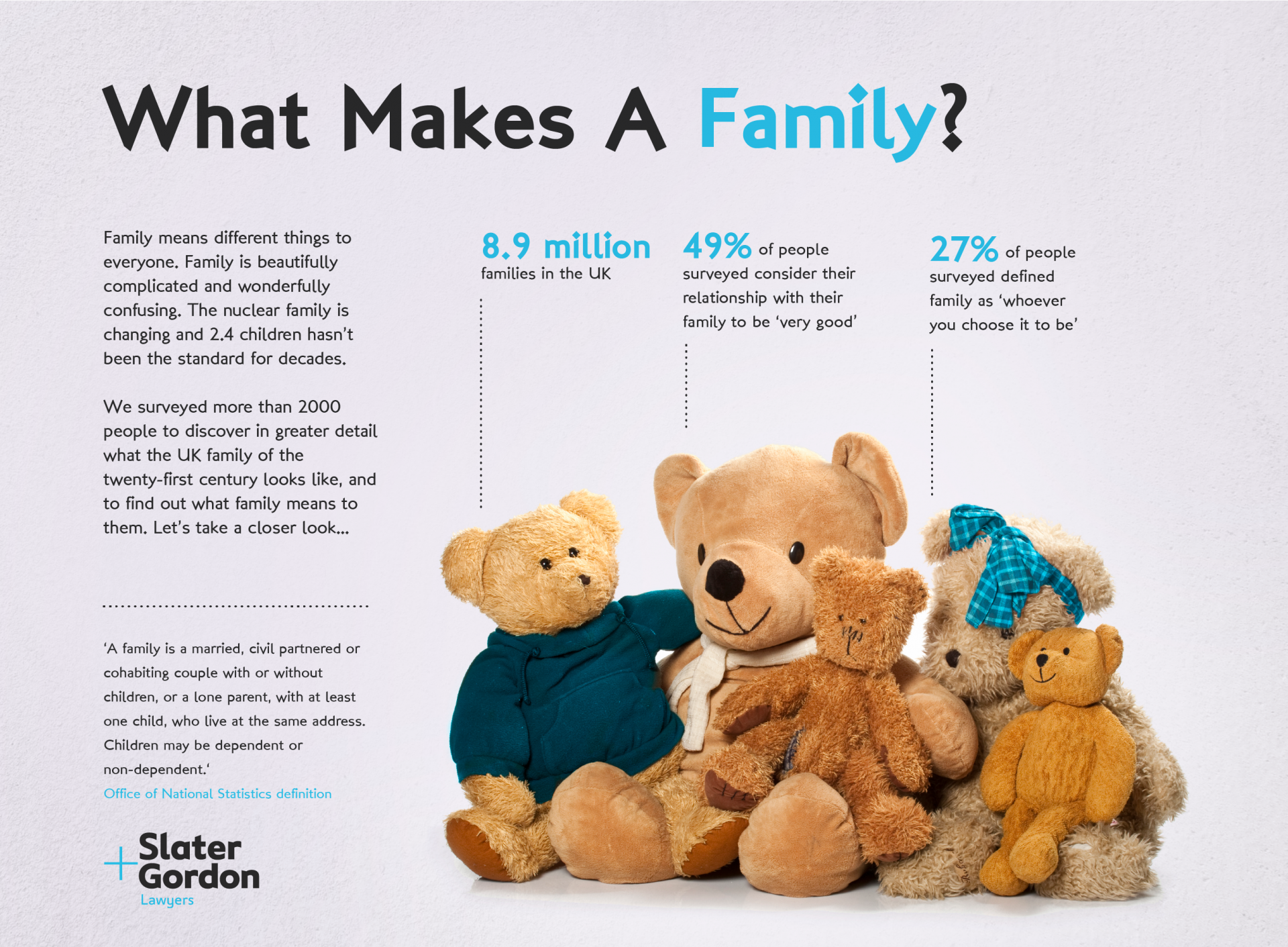 Around this time of year you reach for the emergency chairs, spend a small fortune catering for everyone's cheese needs, and cause World War Three over the last strawberry cream in the Quality Street tin. But you wouldn't change it for the world, right?
When it comes down to it, a traditional family meal is a thing of beauty, along with the laughs, intimacy and even the occasional bout of bickering. As Oscar Wilde once said: "After a good dinner one can forgive anybody, even one's own relations." As a nation we love family relations – The Royle Family wasn't a hit show for nothing!
Christmas is always a bit difficult for us – we never really know how to split our time. Everyone wants to see the kids – my parents, Kevin's mum, Kevin's dad and step-mum. But we also want to make sure we get to spend some of the magical time with the kids ourselves – so over the years we have fallen into a bit of a pattern. Christmas morning is for us. Just us. The kids come bundling into our bed with the presents that Santa has left, and they are opened in a flurry of wrapping paper and excited squeals. Then it's time for breakfast – we relax the rules a bit at this time of year and the kids are free to feast on pain au chocolat, coco pops or pancakes. After breakfast, we all spend some time playing with new toys, battling it out with the family board games or watching a Christmas film. It brings back memories of Christmas when I was small – that's exactly how I remember it being when I was a child.
This year Christmas lunch is just us too – and will be the traditional turkey roast. After lunch, the family are coming over, there will be more gifts, more films and board games, a buffet dinner and Prosecco. Perfect.
So lets raise a toast to our non nuclear families – all of our step-siblings, half-siblings, step-parents and every other relation that make our families both unique and amazing. Merry Christmas one and all.
*This is a collaborative post*