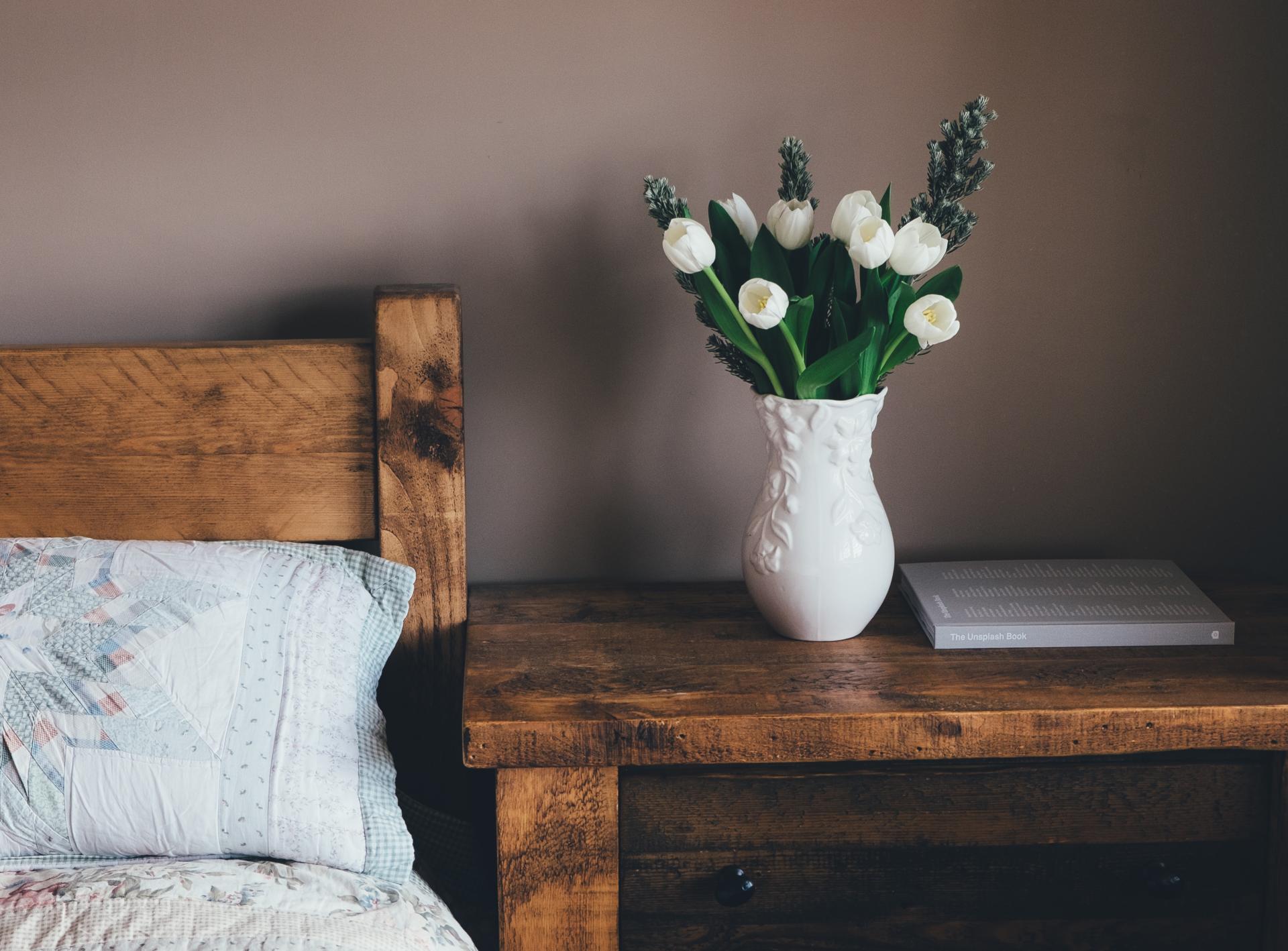 Your bedroom should be a place that feels welcoming, serene and calm if you're going to sleep well: the quality of your sleep (and the way you feel all day as a result) depends on it! So, if you're ready to transform your bedroom but don't want to break the bank while you do it, here's what to do.
Consider painting
First things first: your bedroom will look dramatically different if you give it a lick of paint. Those living in rented properties will need to ask the landlord for permission first, but there's nothing more transformative than a fresh colour on the wall. Stick to pale shades such as whites, blues and greys if you're into the Scandi-cool vibe, or opt for something dark and sumptuous like a deep navy or even a sophisticated Bordeaux if a cosy 'cocoon' bedroom suits you better. Just be sure to buy the best quality paint you can afford: high pigments will produce a better result, but there's no need to splash out on high-price paint if you're just going white all over. If your landlord gives you the go-ahead, see if they'll split the cost of the paint with you on the grounds that you're updating their property.
Guarantee a good night's sleep
Next, turn your attention to your bed. This is arguably the most important part of your bedroom, which is why it's so important to give it some thought in the early stages of transforming your room. Don't cut corners here; buy a good base and mattress from somewhere like Divan Beds Centre – it's affordable but also high quality, which is important if you're on a budget. Then, buy the best quality bedding you can afford to dress it. Bed linen containing polycotton is often the cheapest option the market, but it can be a false economy if you tend to overheat while you're sleeping or suffer with skin conditions. Instead, look for bedding that's 100% cotton – you'll often find it in supermarkets or high-street retailers if you take the time to read the label.
Snap up second hand furniture
Another key part of your bedroom transformation is storage space – something that often comes at quite a cost. Cut the price significantly by hunting for second hand treasures online: eBay, Gumtree and Facebook Groups are a good place to look, and you're bound to find someone selling (or even giving away) wardrobes, chests of drawers and ottomans. It will pay to do a bit of research first, familiarising yourself with some key terminology and images. For instance, can you tell the difference between solid wood and MDF? Are the joints dovetailed or just held together with nails? Then, once you've arrived in person to pick up the furniture, don't be afraid to get hands-on with it: it needs to be sturdy enough withstand being inspected if you're to have any hope of using it. You may need to do some work to second hand furniture, such as sanding, painting or recovering, so factor in the cost of your time and materials for doing this when you're making an offer.
Accessorise cheaply
Finally, the finishing touches are what will make your bedroom feel like it really belongs to you. But again, you don't have to spend much money to achieve the look you're hoping for. Keep your eyes peeled when you're near a charity shop or a car-boot sale, and check out what your local supermarket is selling when you're shopping for groceries. Cushions, candles and photo frames are largely inexpensive, so they're a great low-budget element to focus on if you want to transform your bedroom, and throws and pretty vases won't break the bank either.
*This is a collaborative post*