Can you believe Easter is almost here again? WHERE has this year gone?
For me, it's not Easter without some Cadbury goodness – they are the Easter Eggs I always choose for my children, and they are a firm favourite with families across the UK. This year we have been lucky enough to get a sneak peek at range available for 2018, which offer egg-citing new products alongside all-time Cadbury favourites.
For the kids, Mini Eggs and Freddo Faces are always a winner. The hollow chocolate eggs are the perfect size for children, and the small bags included are perfect for Easter Egg hunts or little treats. We have also been sent some of the Cadbury Egg 'n' Spoon range to try. I have to admit, this is something we haven't had before, but all the children loved the novelty of eating chocolate mousse out of an egg!
This year, there is a new addition to the Cadbury Easter range, as Cadbury retell the forgotten story of the Easter bunny. The Peter Rabbit egg and toy pack, featuring either Peter Rabbit or Flopsy Bunny, combines the traditional Easter egg with a cuddly soft toy from the new film. This is perfect for Eliza, who is 2, who does like her soft toys (and chocolate…).
Singer-songwriter and mum of two, Frankie Bridge, is getting ready to launch her debut storybook, 'The Tale of The Great Easter Bunny,' in partnership with Cadbury this Easter.
The downloadable book, a re-adaptation of The Tale of the Great Bunny created by Cadbury 20 years ago, celebrates The Easter Bunny and encourages families across the nation to take part in their own magical Easter Egg Hunts together over the Easter season.
The story, available to download free from the Cadbury website, follows siblings Jack and Molly as they discover a series of mysterious clues and embark on an enchanting Easter Egg Hunt alongside their parents, Tom and Sarah. The tale takes place within the family home but what the family don't know, is that there is a secret, hidden rabbit-hole at the bottom of their garden… where The Easter Bunny lives.
I LOVE the sound of this story, and we will certainly be using it to help shape our Easter celebrations this year.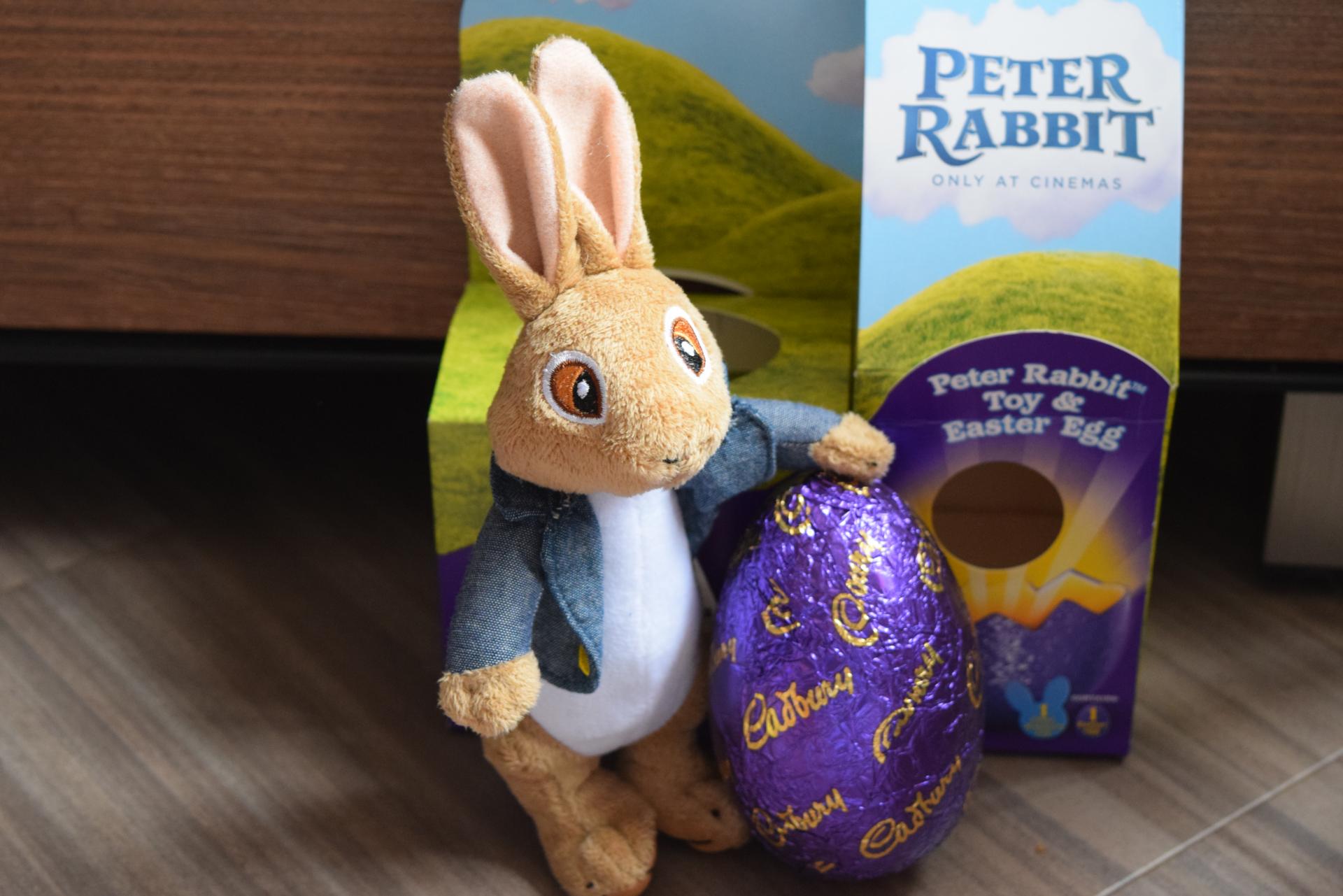 Cadbury also offer a range of mini filled easter egg sharing bags in 4 varieties – Creme Egg, Dairy Milk, Dairy Milk Daim and Dairy Milk Oreo. These are the ideal treat to look for on a fun Easter Egg hunt. They are small enough to tuck away, but the vibrant colours make them easy enough to spot so they won't get left undiscovered! Cadbury have also released a Easter Egg Super Hunt pack this year, priced at £6.99. Hide the treats around your home, garden or another fun location, cut out the clue cards on the side of the pack and use them as markers to signpost your eggs.
Use the Cadbury Mini Eggs Treatsize Bags for the final surprise! You could even spark more eggscitement with the addition of your favourite Cadbury Easter Egg!
As usual, the Cadbury Easter range comes in bright, spring inspired packaging, making them a really appealing option for all the family. There are so many different flavours and varieties available this year, so you will definitely be able to find something for even the fussiest Easter egg hunter. Everything is reasonably priced and available from all major supermarkets.