Grey wood flooring has been hot on the interior design trending list for some time. Modern stylists can't get enough of the fresh, clean finish it brings to our homes. Not to mention the effortless blend with décor and array of colour tones available to choose from.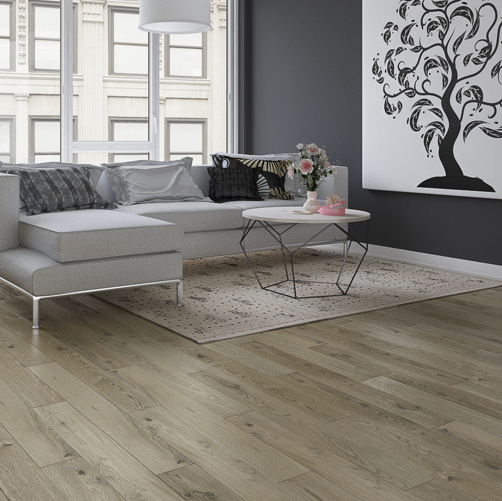 Will your grey wood flooring match your decor?
Perfect for all room settings, grey wood flooring literally goes with anything. It will compliment subtle colour tones to create a natural modest setting or provide the ideal canvas to showcase big bold furnishings. Mustard, orange and lime sofas seem to be the seating of choice for 2018, with homeowners racing out to purchase their statement pieces. Grey flooring looks fantastic in contrast with the pop of colour. Don't you agree?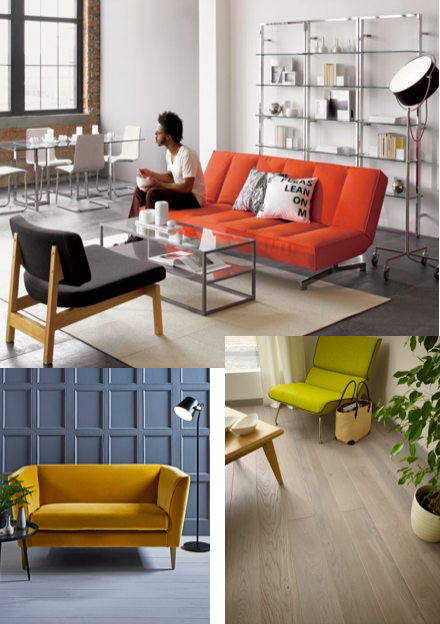 From eclectic to industrial, grey wood flooring suits all.
Fitting perfectly into contemporary, modern, industrial and eclectic designs, grey wood flooring is extremely versatile.
It's not just our living areas which ooze style too.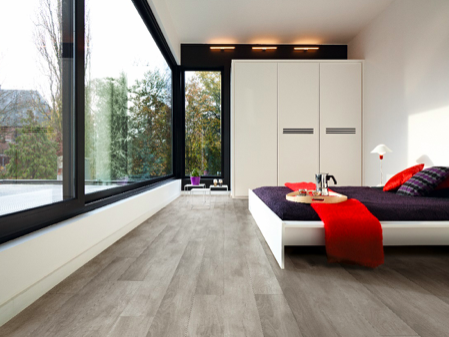 This contemporary bedroom setting looks amazing featuring the slightly wider grey boards. Running parallel to the longest wall, the positioning of the boards elongate the length of the room. The open space is perfect for showing the detail in the planks, whilst the minimal choice of décor works perfectly to draw your attention to the fabulous grey flooring.
Tip: To really exaggerate the knots and grains go for wood flooring with a brushed and oiled finish and a wider plank width. The oil enhances the natural features whilst a wider board provides ample space to showcase the detail.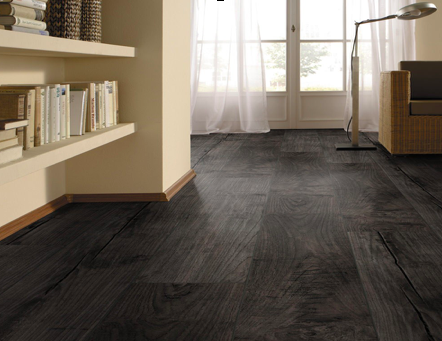 Solid, Engineered or Laminate?
Solid and engineered wood flooring is renowned for the incredible quality, longevity and stunning aesthetics. The addition of modern grey colouring only adds to the appeal.
However when it comes to laminate flooring we have a whole new ball game. Covering a huge range of designs, from traditional solid oak to premium hardstone tiles. The hyper-realistic decorative layer means laminate has the ability to imitate luxury designs – bringing you high end flooring at affordable prices.
Grey laminate flooring is the perfect choice for those trend setters that love to remain up to date with the latest styles or homeowners that simply love a bargain. As a cheaper flooring range it won't break the bank if you want to replace it. Although its lifespan is impressive at 15-25 years, our inner designer tends to take over and a décor spruce up often comes round a little earlier.
Tip: Laminate is great for self-installations. The click lock system makes easy work of joining the boards so you can save on fitting costs.
So with all these grey wood flooring styles to choose from the only difficulty you will have is selecting your favourite. As a final tip, free samples are always great for helping narrow your decision!