Max and Eliza are die-hard Paw Patrol fans. We have the DVD's, the books, the computer game and lots of the Paw Patrol figures and toys.
The most recent Paw Patrol toys to hit the shelves are Marshall's Ride and Rescue and Rubble's Ultimate Construction Truck.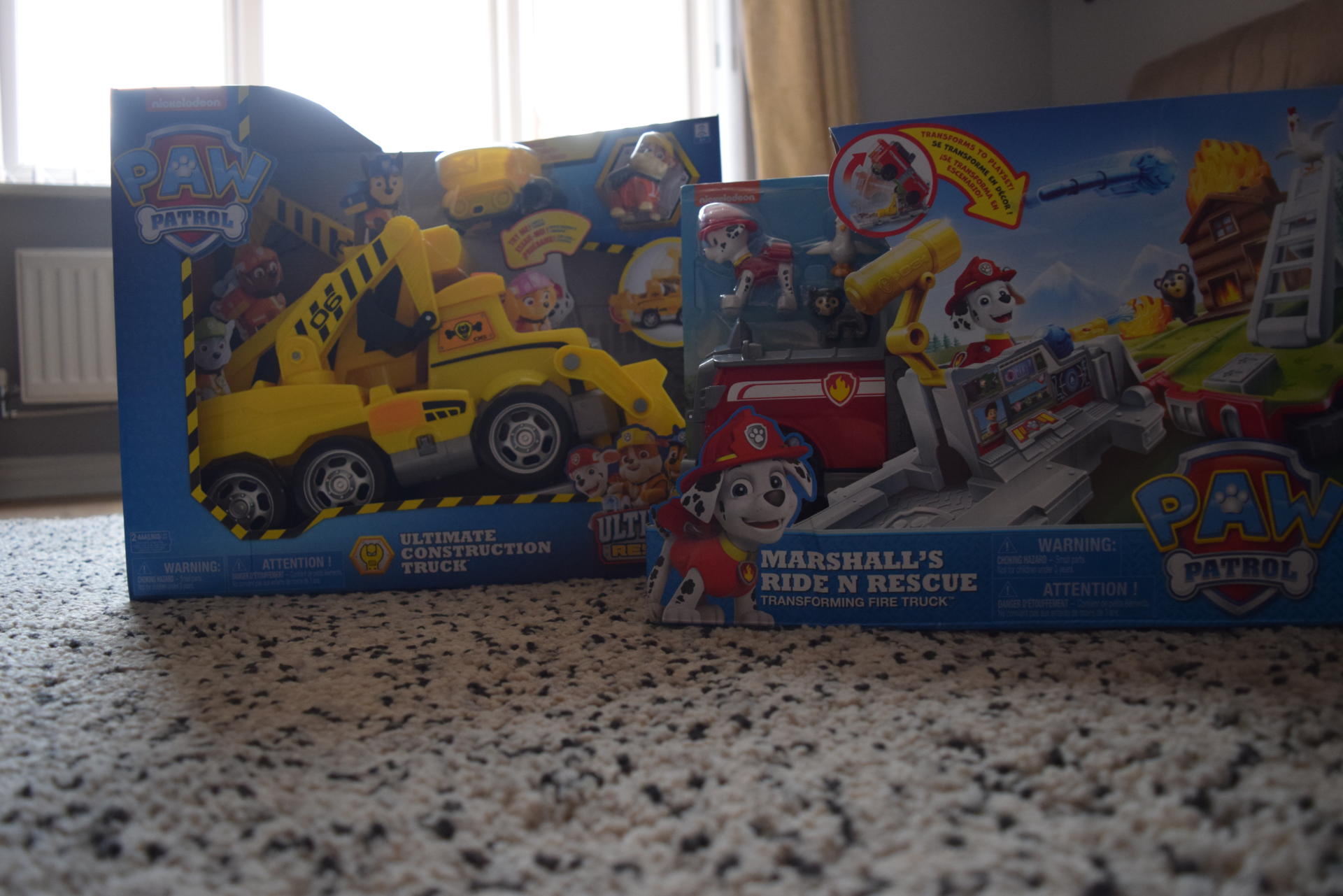 For the second year running, the much-loved pups with their unique personalities and special mission characteristics are celebrating 'real-life' little heroes in the PAW Patrol Little Heroes Paw Awards 2019.
If you know or have a little hero in your life who is between the ages of 3-10 years and you would like to nominate them, you can enter the Awards by visiting www.PAWAwards.co.uk and sharing why this little one deserves to be one of the PAW Patrol Little Heroes of 2019.
The Awards
– The Rubble Award for Strength
Whether physical or emotional, do you know a little one who has shown unusual strength? They may have been brave, tough or strong. We'd love to know what they did and how proud you are of them!
– The Skye Award for Courage
Has a little one you know shown outstanding courage. Did they face their fears or help others through a courageous act? Please tell us what happened and why they deserve this award!
– The Marshall Award for Loyalty
Sometimes, loyalty is tested and it's not easy to do the right thing by others! It might mean missing out yourself or upsetting another. But if you know a little one has shown remarkable loyalty or willingness, do let us know.
– The Rocky Award for Making a Difference
Has a little one helped the community? Have they taught you a thing or two about saving the planet or shown inspiration, or wisdom or come up with a brilliant idea? Tell us why your little patroller is a shining star!
– The Chase Award for Leadership
Has your little one proven a responsible leader? Was there a time when they unexpectedly stepped up to the mark to lead, shown confidence, maturity or set a great example? Whether at school or at home, we'd love to hear!
– The Everest Award for Kindness and Friendship
Has your little one helped or supported a friend or family member in need or just been incredibly kind to others? Tell us how they have been a great friend or about their generosity and kind heart.
– The Zuma Award for Being Helpful
Everyone needs a little help at times and sometimes often and kids are not always first to offer – but if you have a special little assistant in your life then please share what makes them your helpful hero!
– The Ryder Award for Kindness to Animals
Do you know a child who is a hero who shows kindness above and beyond to the animal kingdom? Tell us how this child is a friend to pets or animals whatever their shape, size or wherever they live!
Each winner will also receive an award keepsake – plus a bundle of the latest PAW Patrol toys including the Mighty Pups characters! These may include the Ultimate Construction Truck and the Ride 'n' Rescue range – so let me tell you a little more about them.
The Ride 'n' Rescue is a 2 in 1 play set. At first glance it looks like a standard vehicle, but it can be unfolded to create a mission adventure. With Marshall's Ride'n' Rescue set, the barn is on fire, Chickaletta is stuck, and Teddy is caught behind a fire. Your child can launch the water cannons to put out the flames, and help Marshall climb the ladder to rescue the stranded animals. Everything folds up again when play is finished, making storage and transport super simple.
Rubble's Ultimate Construction Truck has flashing lights, construction sounds and a working dump bed, scoop and wrecking ball. Rubble sits in the drivers cab, and there is room for all the other Paw Patrol pups on board. You can attach the Ultimate Rescue mini vehicles to the side of the construction truck too, so play opportunities are endless!
So if you fancy trying out some of the new Paw Patrol toys, and you know a real life little hero, the PAW Awards are here to celebrate them! Chosen by a panel of judges, the winners of the eight awards will be invited to attend a Luxury VIP Weekend in London in order to attend the awards ceremony on Saturday October 12th.
The awards will take place at the Park Plaza Westminster Bridge, London. The 8 Award winners and their families will be invited to enjoy a luxurious VIP weekend staying in a family Studio (2 adults and 2 children under 12) from Friday 11th until Sunday 13th October. Breakfast is included and each family will receive £200 spending money!