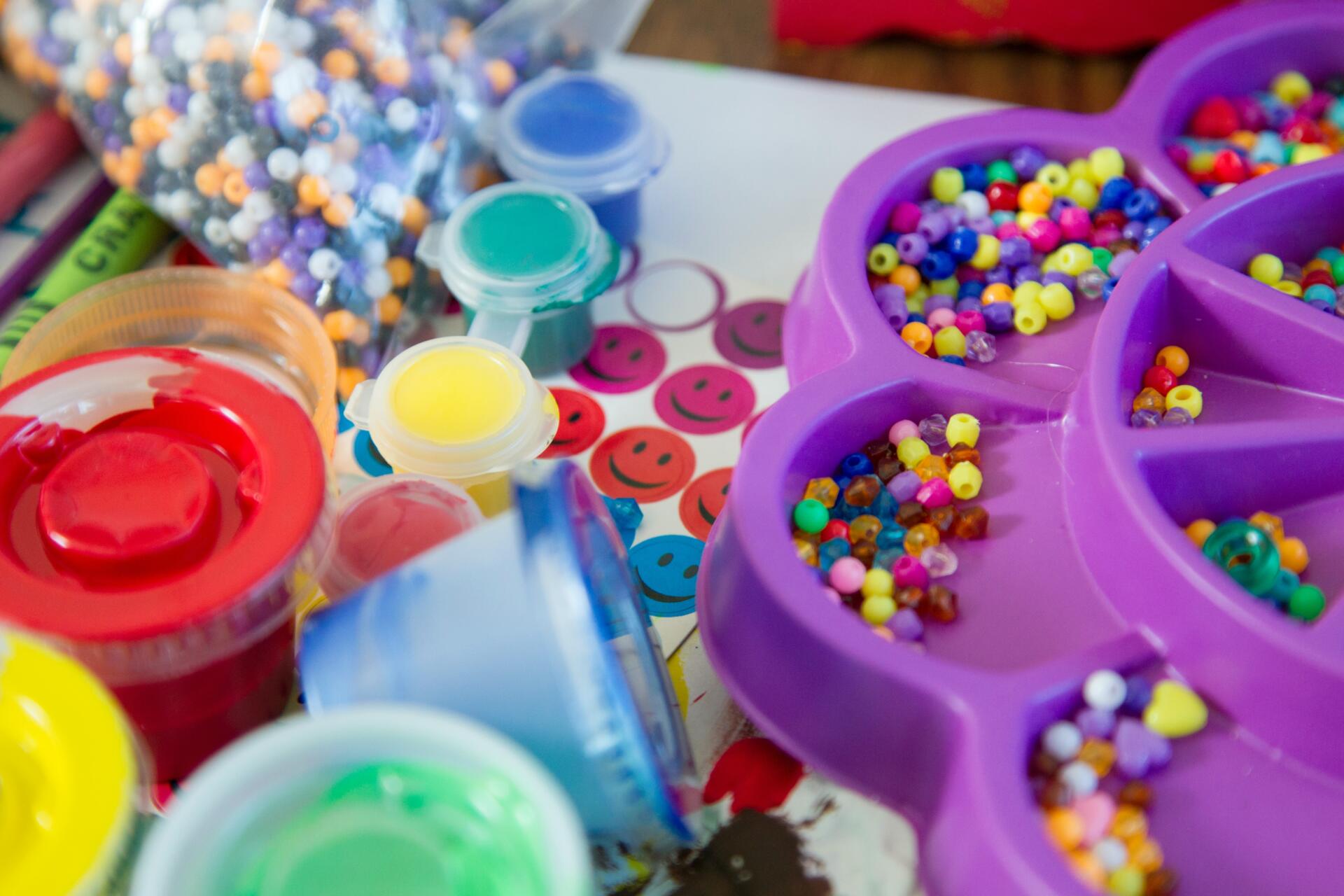 Toddlers love to create and the messier the art project is, the more they love it. Even for the tiniest of crafters, as long as they are involved and have a hand in the results they are benefiting on multiple levels. Arts and crafts help toddlers develop both fine and gross motor skills, learn to focus, become more creative, and flex their independence and confidence. A parent or caregiver that exhibits positivity and patience will help their toddler learn precious skills while unleashing their imagination.
What Makes A Craft Project Toddler-Friendly?
Make sure to pick a project that is simple to understand and has only a few supplies. Fewer steps are better and projects that don't take very long to complete are recommended. Projects that go on too long or have complex steps can be frustrating for young learners. It's OK if your toddler can't do every step independently. Help from an adult is welcome and encouraged at this stage.
Here are some simple craft projects that are perfect for toddlers under 4 years old.
Leaf Prints
This is a perfect fall activity for once the leaves start to change colour and fall from the trees. Go on a nature walk together and collect interesting leaves. Pick freshly fallen leaves that aren't too brittle yet.
You'll need these supplies:
Fallen leaves

Paint

Paintbrush (optional)

A canvas to print on (paper, napkins, fabric, t-shirt, blank tote bag, etc)

Something to press your leaves onto the canvas with (a roller, a book, etc)
Take your leaves home and cover one side with paint. Your toddler can paint with a brush or with their fingers depending on their level of development in fine motor control. Place the leaf paint-side down on your canvas. Press the leaf down and remove it carefully. Repeat these steps with different leaves and different colours around the canvas. You can find this project and several more in this article by Parents Magazine.
Tissue Paper Tree
Your toddler will love this craft because they are encouraged to rip and tear up colourful crinkly paper. This craft originally appeared on the Mommysblockparty.com blog in the crafting section.
You'll need these supplies:
2 large sheets of craft paper

Coloured tissue paper or construction paper

Glue stick

Crayons or markers
The adult should cut one piece of blank craft paper into a large cloud shape. Now, allow your toddler to have fun tearing the coloured tissue paper into medium-sized chunks. Help your child cover small sections of the cloud with glue at a time and then press the coloured paper into the glue. When you are done the top of the tree is complete. The adult can cut the second piece of craft paper in a tree trunk that your toddler can colour in. Attach the top and bottom of the tree and you're done!
3 Ingredient Foam Paint You Can Make Yourself
This cool toddler activity is part art and part science. First, you create the foam paint and then you get to create your masterpiece. This super-simple DIY puff paint then dries overnight into a solid-state. You can find the full instructions here, but here is a quick summary.
You'll need these supplies:
Shaving cream

White glue

Food colouring

Ziplock bags

Paper
Mix equal parts of shaving cream and glue inside a ziplock bag, add in food colouring. Seal the bag and squish it around until it is well mixed. Make one bag for each colour you want to use. You can cut a small corner off the bag so the paint can be squeezed out. Your toddler can use piping to lay down their design or they can also squeeze out some paint and use their fingers to spread it around. Let the project air-dry overnight.
Painted Pasta Necklace
Here's a tried and true recipe for craft success. Almost all of us have memories of stringing colourful pasta into a necklace as a gift for someone special at some point in our childhood. Here is how you can recreate that memory at home with your toddler.
You'll Need These Supplies:
Craft paint and brushes

Pasta noodles with holes in them

Yarn

Tape

Scissors

Scrap paper

Wax paper

Cup for water

Disposable plate or palette to hold paint
First, select your pasta and get ready to add some colour. You can paint with brushes or little fingers, the choice is yours. Once the paint has dried you can string it up on thread, string, or cord to make your necklace. These make great gifts and are fun and easy to make. You can also add other elements like beads to your design. Stringing the pasta is an excellent fine motor skill to practice.
Paper Plate Animals
Paper plates, construction paper, and some paint are all you need to create funny cute animals with your toddler. You can make all your favourite animals and start your own little zoo.
You'll Need These Supplies:
Paper plates

Paint

Construction Paper

Markers or crayons (optional)

Glue

Paper bag or more plates for an optional body
Have your child paint a paper plate that they'll turn into an animal. They can add eyes and other tell-tale features to resemble their animal friends. They can also add ears, hands, feathers, a body, a tail, or other fun features. This is a great art project that uses everyday supplies you are likely to already have at home. It can also be a great activity for learning about animals and their features. Hang your child's animals up and help them create their own pretend zoo or animal shelter.
Time spent playing and making art with children is never wasted. Kids learn a lot about the world and build valuable skills while doing art projects at home or at school. You only need a few low-cost supplies to get started and many of your elements can be found around the house or outside in nature. Have fun on your crafting adventure.
Author Bio
Sandra Chiu works as Director at LadyBug & Friends Daycare