Well it's 2013….already! Time really does fly once you have little ones!
New Years Day was cold and wintry here, but we kept warm with a lovely dinner at hubby's sisters house, followed by a gorgeous stroll round the Quay – kids rode their scooters, climbed trees and generally had a wonderful time!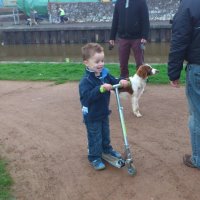 The kids have JD Bug foldable scooters – they are great as they fold really small and so we can fit them in the car even with all 4 of us and the dog!
Now the fun and excitement of Christmas and New Year is over, boredom has started to set in for the kids. So the last few days have been all about fun fun fun – lots of arty crafty activities and lots of baking has kept them occupied, as well as playing with all the new Christmas toys and games, and even a bit of housework!
We found a wonderful biscuit recipe this week which was fun and easy, and the results were enjoyed by every member of the family! Definetley worth giving this one a go!
INGREDIENTS:
185g plain flour
90g cocoa powder
1 teaspoon baking powder
Pinch of salt
185g softened butter
250g caster sugar
1 egg
DIRECTIONS:
1. In a bowl, combine flour, baking powder, cocoa and salt. Set to one side.
2. Blend sugar and butter until smooth, then add egg and mix.
3. Gradually add the wet ingredients to the dry, until you have a soft, pliable dough.
4. Flatten the dough and wrap in clingfilm. Refrigerate for 2 hours.
5. Preheat oven to 190/gas mark 5.
6. Roll out the dough on a floured surface and cut into desired shapes with biscuit cutters.
7. Place shapes onto a baking tray (lined with baking paper) and bake for 10-12 minutes. Allow to cool and decorate as required!
8. ENJOY!
Let me know how this recipe works for you – we all loved it!