I have recently discovered the lovely new linky over at Adventures of a Monkey Footed Mummy – Thankful Thursday. Just a place to link up and share what you are thankful for this week.
For me, this week is an easy one. I am thankful for the fact that my husband gets a 2 week break from work over the Christmas period. It has meant that while the children have been off school, we have been able to spend some time together as a family – and we have done all sorts. Board game and DVD days, shopping, winter walks, visiting family and friends – and today we have been ice skating. It was Gemma and Jacob's first try at ice skating, and though it took them a while to pick it up, they were soon whizzing along, chasing each other and falling in giggling heaps. Absolutely perfect family time. I couldn't ask for more. One item ticked off my Winter bucket list!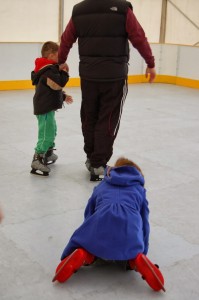 Max and I enjoyed watching them from the sidelines, and dispensing the hot chocolate and cookies to warm up with. This little bunch of people mean the world to me, and I have a lot to be thankful for.