Have you heard of Meadow Kids before? I only came across them recently following a recommendation from a friend. They offer a range of products that are designed to enhance family interaction and stimulate cognitive development.
We were sent a few items from the range, and couldn't wait to take a closer look.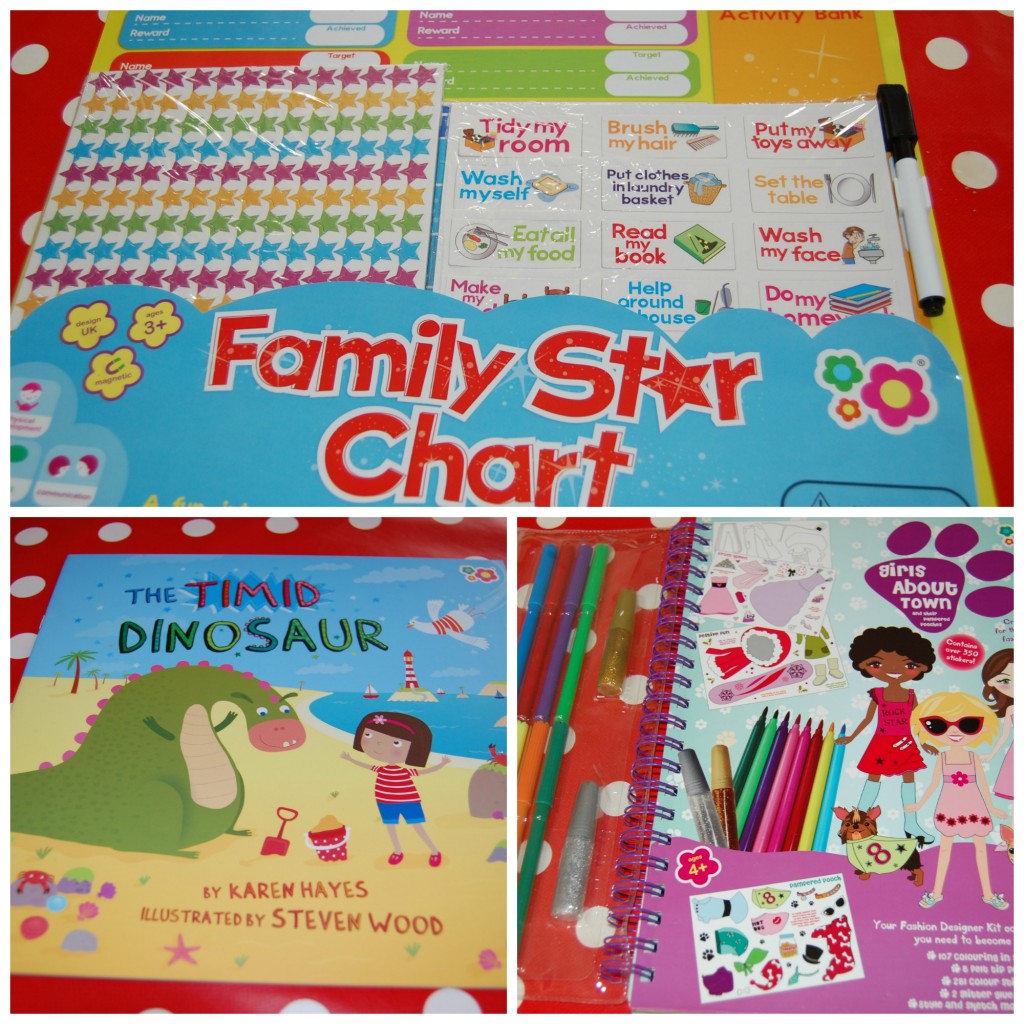 The Timid Dinosaur is a lovely book about Lucy and her pet dinosaur, who come across a range of things that Dino is scared of during their journey. This book is aimed at children 1+ and both Max and Jacob enjoyed sitting and looking at this book. Jacob enjoyed the story, while Max loved looking at the bright illustrations.
Gemma was sent a lovely Girls about town activity book, which is right up her street! It allows her to design and create outfits for the girls in the book, as well as their pet dogs! It comes with stickers, felt tips and glitter glue for that finishing touch, and Gemma really has loved it – it has given her a feeling of independence, creating the outfits and colours she wants.
By far our favourite item is the Family Star Chart. We have tried star charts in the past – I have designed them on the computer and printed them off and we have used all sorts of reward points from ticks and smiley faces to gold stars. They always work well for a week or so and then get forgotten about and not used again.
This star chart has been different. For a start, it looks much better than my efforts, and the jobs and stars and all magnetic, so it is easy to use and re-use the chart. There is a set of pre-printed 'chores' such as set the table, make your bed and go to bed on time, but there are also 2 blank pieces which you can write your own requirements on – these can be wiped clean and re-written as many times as you like.
Gemma and Jacob each chose a colour, and each time they completed one of the chores, they could pop their coloured star on the corresponding day. If they managed to get a certain amount of stars, at the end of the week they could choose a small treat from the local shop – a packet of sweets, a small toy or a magazine. It has really worked, much more than any previous chart we have tried, and I think we will be using it for years to come.