Pink Lining are one of my all time favourite companies. I love their seamless pairing of practicality and style. I love their Not so Plain Jane and Mama et Bebe changing bags, and I was over the moon when I heard that they were expanding their range to include a nursery range. My wish list grew and grew (I definitely need the new Pink Lining print Bundlebean for the winter) and I have been lucky enough to get my hands on one of the new 'One Starry Night' sleeping bags to try out with Max.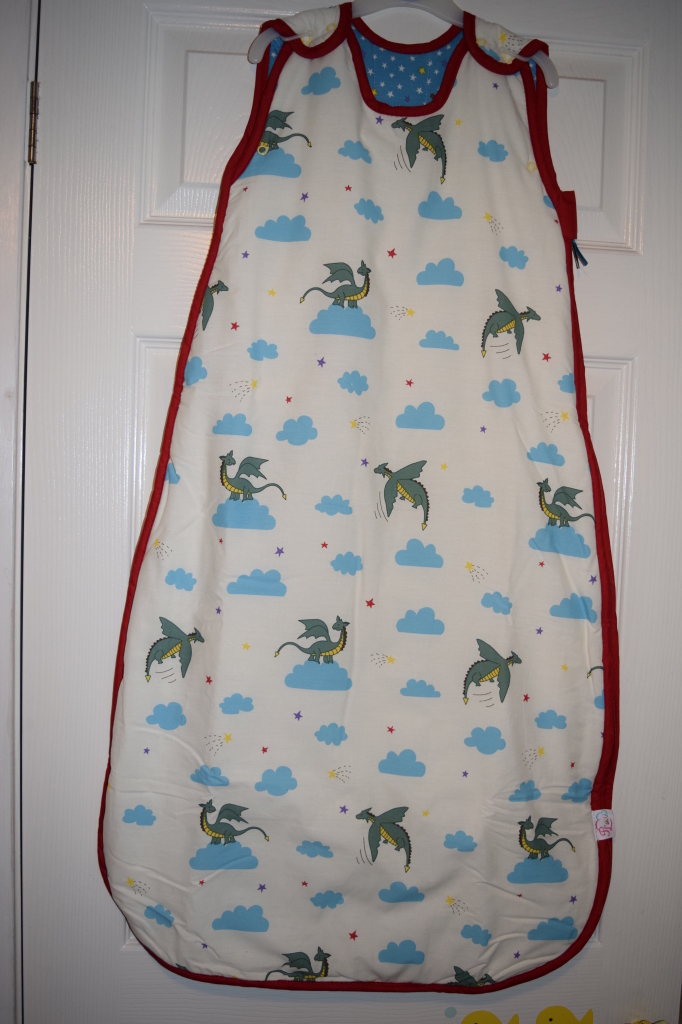 Of course, the first thing you notice is the gorgeous design – I love the mythical dragons on their blue clouds among the shooting stars, and the inside of the sleeping bag is printed in a star pattern that compliments this. The bright red edging really adds to the look, and sets off the pattern beautifully.
The sleeping bags are 2.5 tog, making them just perfect for this cool autumn weather and on into the winter months. It doesn't feel heavy though – it is very lightweight, and made from 100% cotton, which not only makes it comfortable and suitable for little ones, but also means it washes really well too, with no loss of shape or colour run.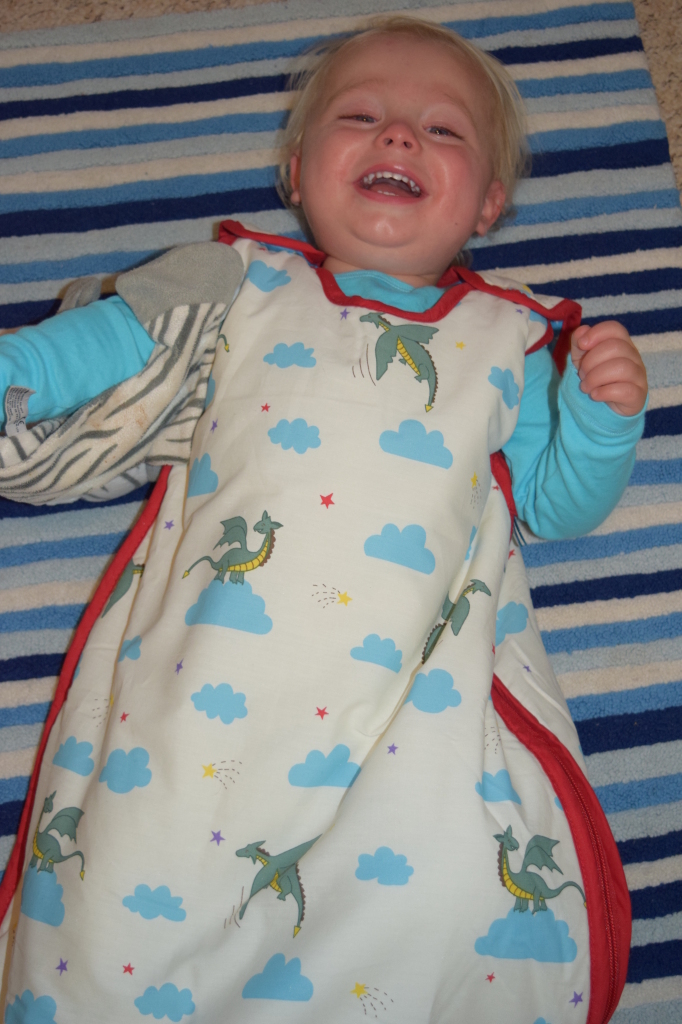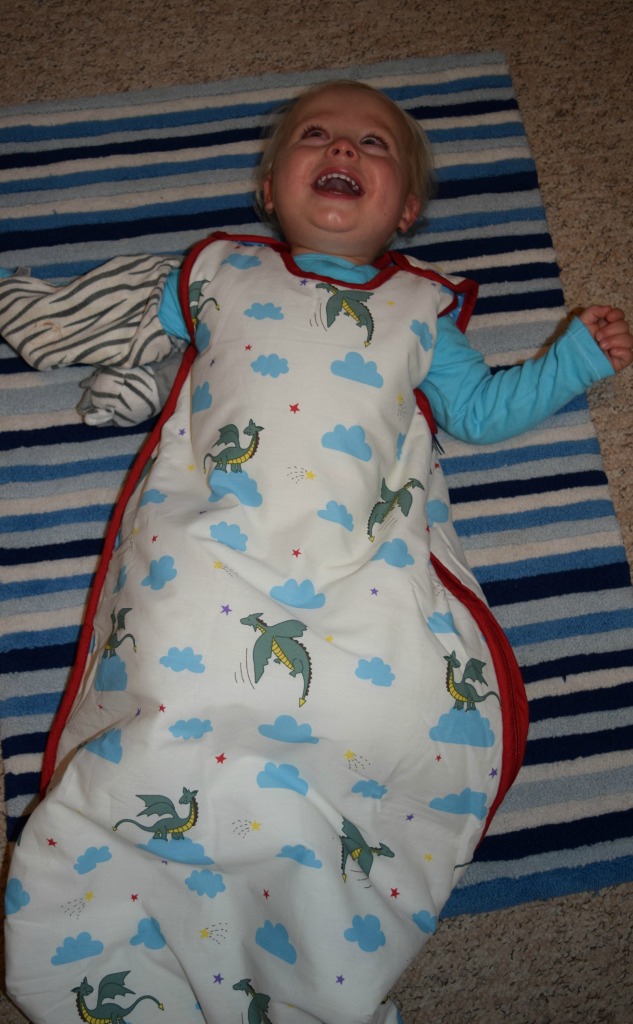 I think the Pink Lining sleeping bags are very generously sized. We have the 6-18 month size, and despite the fact that Max is now 17 months old, he has LOADS of room. His feet are only just over half way down the sleeping bag, and I am confident that it will last right through this winter and beyond. The fastenings are simple too – I hate anything that is too fiddly at this age, as getting a wriggly toddler into their sleeping bag can be a chore, and so you really do want a quick and easy fastening. This sleeping bag has a pre-attached zip that goes straight round from the feet to underneath the armpit, and has a material zip cover to fold over the top, which stops little fingers from undoing it,and poppers at the shoulders. I think it would be nice to see a couple of poppers underneath the arms, just to make a more snug fit for the smaller babies – I think if you were using this from 6 months it may be a tiny bit loose under the arms, but it does of course depend on the size and shape of the baby.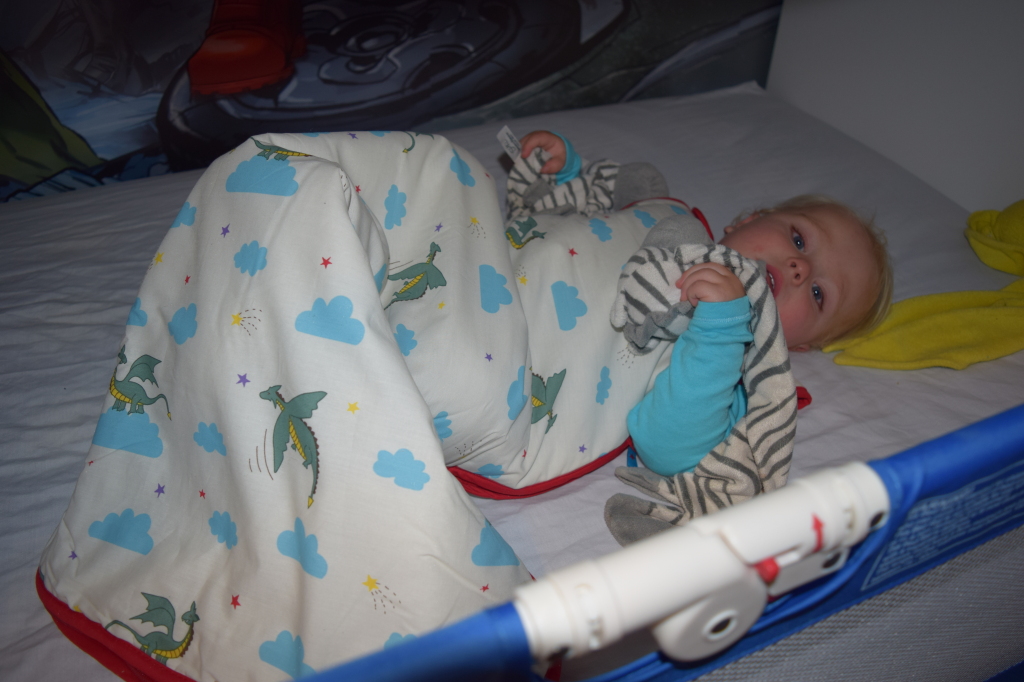 Max has got to the age where he will sometimes fight bed time, and will often run in the opposite direction when he sees a sleeping bag. However, he loves the design on the Pink Lining sleeping bag so much that he actually runs towards it, and sits pointing at the stars, and dragons, and so getting him ready for bed is a lot easier! You can see just how much room he has, and how easily he can move his legs around in it – despite being at the top end of the age range for this, he is not in any way restricted.
This sleeping bag gets a huge thumbs up from me, and it has become my go-to choice for bed time. I love the design, the ease of fastening and the softness. Like I said at the beginning, Pink Lining really do know how to combine fun with functionality.