During the 9 months of pregnancy, you get bombarded with lists – things you need for baby, what you should pack in your hospital bag, names to consider. So here's my list with a difference: things you should consider trying during pregnancy!
Earth Conscious washable breast pads – now I know that most of you will associate breast pads with post birth, when your milk comes in, and you're not wrong. But during pregnancy, many of us leak milk early on, and need something to keep us dry and fresh. I hate the disposable breast pads – they are papery, sweaty and rustly and make me feel so uncomfortable. These bamboo pads from Earth Conscious are super absorbent, washable at 30 or 40 degrees and feel lovely against delicate, sensitive skin. A must have from pregnancy right through to breastfeeding.
Nutrimum cereal bars – finding something that you fancy eating can be hard, especially in the first few months of pregnancy. Nutrimum bars are specially designed to meeting the nutritional needs of pregnant and breastfeeding mothers – each bar contains 5 key ingredients to give you and your baby just what is needed. I was worried that all this goodness would make them a bit, well, bland, but I was pleasantly surprised – they taste great. Chewy, full of fruit and chocolate and really filling. Definitely a healthy snack option when you need a quick pick-me-up.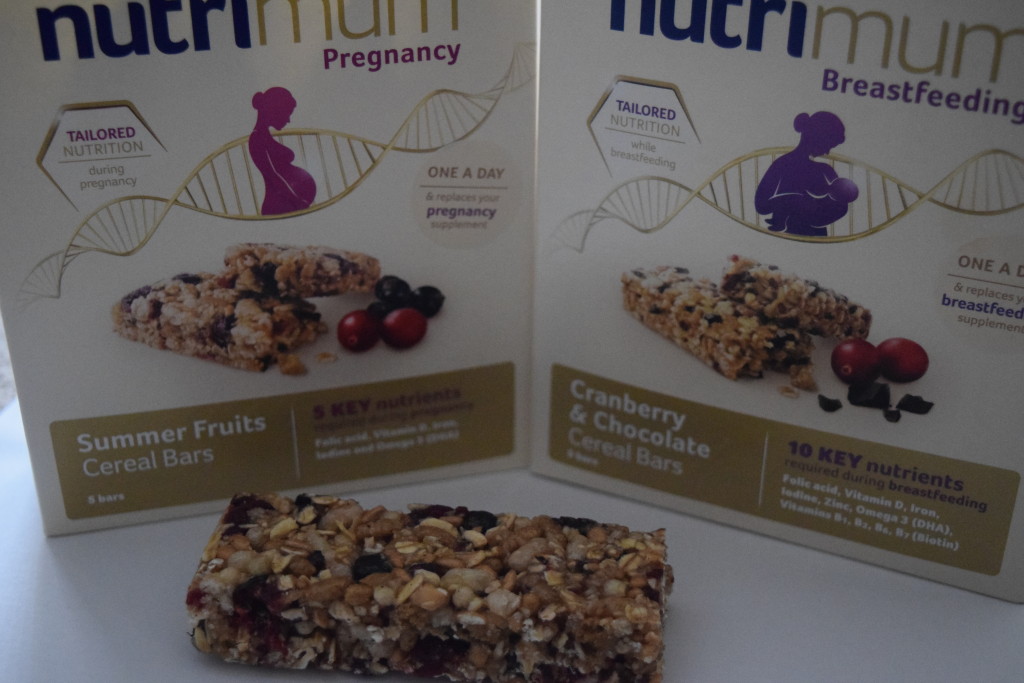 Baby Name Genius app – choosing a name is HARD. There are usually some that you love and your partner hates and vice versa, there are some names that you like but that have too many memories or negative emotions attached, there are names that are almost perfect but don't fit with your surname – and sometimes you can just run out of inspiration. That's pretty much where we are now. We have a couple of boys names in mind, but have found choosing a girls name much harder. The Baby Names Genius app is free to download and has over 50,000 names on its database. It uses intelligent search to understand the types of name you love, and also has live trending so you can see the names that are hot right now, as well as name meanings and origins and alternative spelling suggestions. A must have if you are currently on a name search!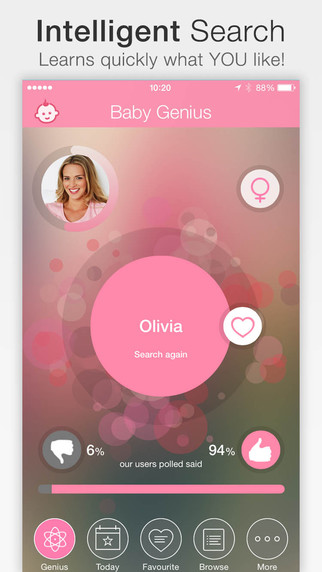 Anita Maternity Cherry Blush maternity/nursing bra – a good bra is vital during pregnancy and breastfeeding. You need decent, comfortable support, adjustability as your shape changes and quick, easy feeding access. The Anita Maternity Cherry Blush bra offers all that, and still looks pretty – just because you are pregnant doesn't mean you have to go for boring white stretch bras! This bra is soft, supple and because it has no underwiring, is comfortable to wear all day and even at night if needed. The feeding cups are a traditional drop clip, which can easily be unclipped and refastened with one hand, while the other cup still maintains support during feeding. This has fast become my favourite bra, and I will continue to wear it throughout pregnancy and during the months of breastfeeding to come.