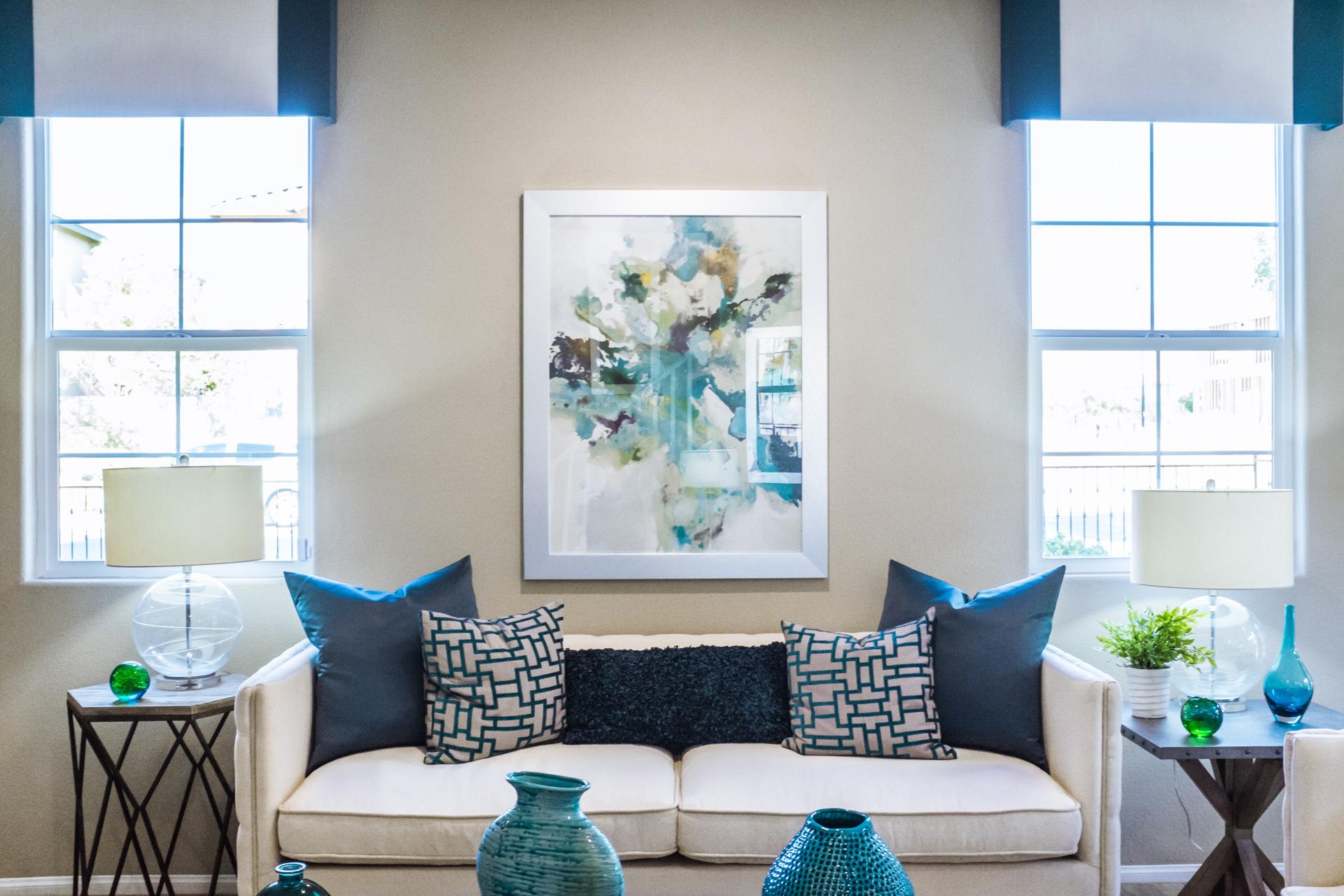 Now that we have lived in our new home for 2 years, we are starting to think about some decorating, and ways to put our own stamp on the place. There is a fairly new concept I have come across during my research, about colours – and how the colours we're most attracted to or the ones we choose repeatedly, tell us something about our personality.
Colour your personality

So far, we have decorated the living room and made plans for several other rooms. So what do our colour choices say about us?
GREY
Our living room has been painted a soft grey, and we have chosen a feature wallpaper in a silvery grey brick effect. The floors are wooden, and the furnishings are shades of grey with some small orange touches from the cushions and curtains.
"Grey is a reliable colour; you can't go too wrong with it. It's the same for you as a person. You're reliable, but sometimes a bit scared of being the centre of attention. You'd much rather fade into the background. Grey is also the colour of compromise. It shows that you can be indecisive, and would rather sit on the fence than make any big decisions. You're mostly a calm person who likes to be in control of a situation. Sometimes you can be a little bit too serious, but your fun side comes out when you're with your best friends".
I'm definitely guilty of being indecisive, and hate being the centre of attention, so this definitely seems right for me! I absolutely love the grey in this room, and find it calming, soothing and relaxing after a hectic day. It's also super easy to restyle without much hassle – grey goes with everything, so a simple change of curtain colour or a new rug would make everything look different without breaking the bank.
YELLOW
The next room on our DIY list is the master bedroom. Currently it doesn't really have a 'look' – it's very plain and basic, with magnolia walls and a grey carpet. Our plan for this room is to introduce some yellow (and some trusty grey). We have some yellow and grey scandi style bedding and curtains, and we plan to replace our current drawers and bedside tables with some white gloss ones. I then want to bring in lots of yellow accessories – cushions, lighting, candles and flowers. The wall behind the bed is getting a makeover too, and we have chosen a wood effect wallpaper in keeping with the scandi style. So what does that say about us?
If yellow is your go-to home colour, it shows you're creative, but also a bit of a perfectionist. You're always the person giving advice out to friends and family, and are definitely a glass-half-full sort of person. You see the positive in everyone and everything, although not necessarily in yourself.
Again, it seems pretty accurate. I am a bit of a perfectionist in most things, and I love helping friends and family out with advice when I can. As for the glass half full….. well, I try!
I've loved using the colour personality book from Julian Charles, and it has definitely helped us to make some decisions around decorating. I think the kitchen might be next on my list. I'm thinking a sage green feature wall at the dining end, with white walls and white metro tiling around the cooking area…..