I absolutely love receiving flowers. There's something lovely about it – knowing someone is thinking about you, and being reminded of that every time you see those blooms in your home. I love sending flowers too, for the same reason – I know how much they can be appreciated. As such, I am always on the lookout for new flower delivery companies.
Bloom Magic Flowers have set out to change the way flowers are delivered. Starting with the sustainable sourcing and eco-friendly packaging all the way through crafting top-class bouquets designed by Britain's top floral designers, paired up with exceptional customer experience. I was sent the Bloom Magic S'aimer Sur Le Pont Neuf from the Hatbox collection.
This arrangement features a variety of purple and white roses, lisianthus, and gerbera, as well as chrysanthemums, eryngium thistle, veronica and iris, – some of my personal favourites. I had gerberas and roses in my wedding bouquet, so these are always flowers that mean something to me. The Hatbox collection is something new and exciting that I haven't seen before. It eliminates the need for a vase or display bottle, as you simply fill the lined hatbox with water and the flower food provided. It's really eye catching, and comes in 3 colours – blush pink, powder blue or charcoal grey.
These do come in a large box, so do be aware of that when sending – someone will need to be home to receive the delivery. It's important to get the flowers unpacked and into water as soon as possible too, to preserve the blooms. I didn't manage to get mine into water for a couple of hours after they were delivered, due to work and school runs, and the edges of the delicate petals do brown and wilt fairly swiftly. Having said that, once the flowers are in water, they last for a good amount of time. The arrangement comes with 7 days of freshness guaranteed, so you know the recipient will be able to enjoy the flowers for a while.
I never seem to be able to arrange flowers well once they are removed from their packaging, so I really like the fact that these flowers come pre-tied and ready to slide straight into the hatbox. It means you end up with the flowers looking exactly as they do on the order page, and allows you to get the best from your blooms.
If you would like to receive your very own S'aimer Sur Le Pont Neuf Hatbox arrangement, simply enter below – good luck!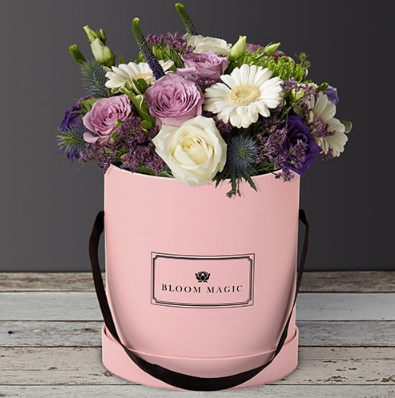 Terms and conditions. Open to UK residents only, giveaway ends 5/8/18. Winner will be randomly selected from all correctly completed entries, and contacted by email. Winner should claim their prize within 10 days or it will be redrawn. Prize supplied directly from Bloom Magic.