I know so many people who have had babies recently, and knowing what to buy for a new baby gift can be hard. I try not to go for clothes, as that's what everybody buys and I don't want to swamp the new parents in little outfits they need to wash. Flowers never seem right to me – they don't last long and they don't seem the right thing to welcome new life. Chocolates and biscuits always go down well, but again they don't seem the right thing for such a momentous occasion.
So what do you buy for a brand new little person? Here are a few of my favourites.
Personalised clock framed print from Toxic Fox
Most of us keep mementos from the day our babies were born – the hospital bands, the first sleepsuit. But having something you can display rather than keep in a box is so special, and it doesn't get more special than this personalised clock, showing the childs name along with their date and time of birth.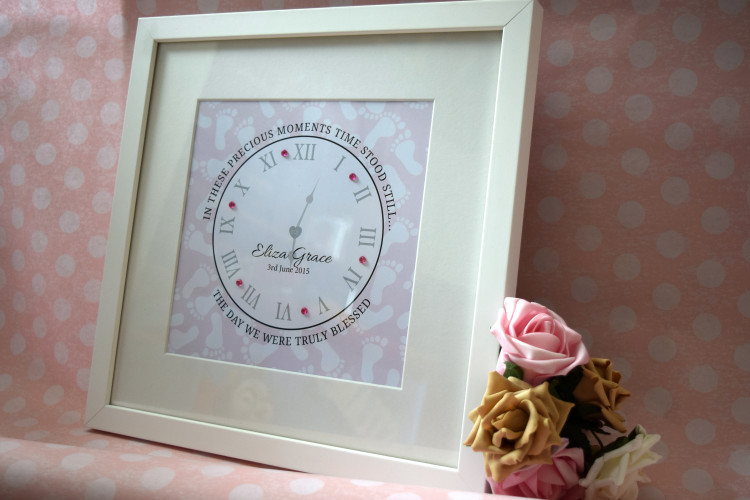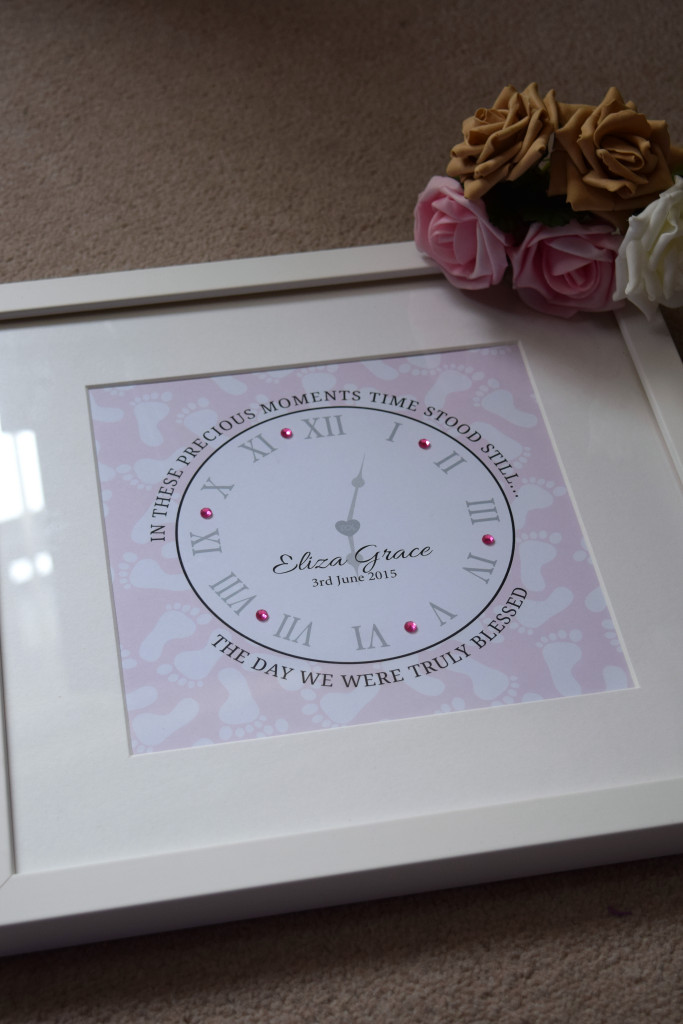 Not only is it an incredible keepsake to look back on, it's something that really compliments your home too. The solid frame comes in either white matt, white gloss or black gloss so you can tailor it to your home decor, and the footprint covered background can be baby pink or pale blue. There are small Swarovski gems dotted around the clock for a bit of sparkle and you have the option to add a special message as well as the name.
In these precious moments – the day we were truly blessed. A sentiment all parents can relate to. I cannot wait to display this in our new house, and am planning to order the same frames for the other 3 children too. I already know where I want to hang them – on the wall at the bottom of the stairs, for everyone to see as they enter our home.
Little Bump Shop baby clothes bouquet
As I have said before, flowers aren't my gift of choice for a new baby, but I would definitely opt for a clothes bouquet instead. Styled to look like a beautiful posy, these bouquets contain a selection of practical baby items that all parents need – but presented in a much prettier way than the usual plastic packages and clothes hangers!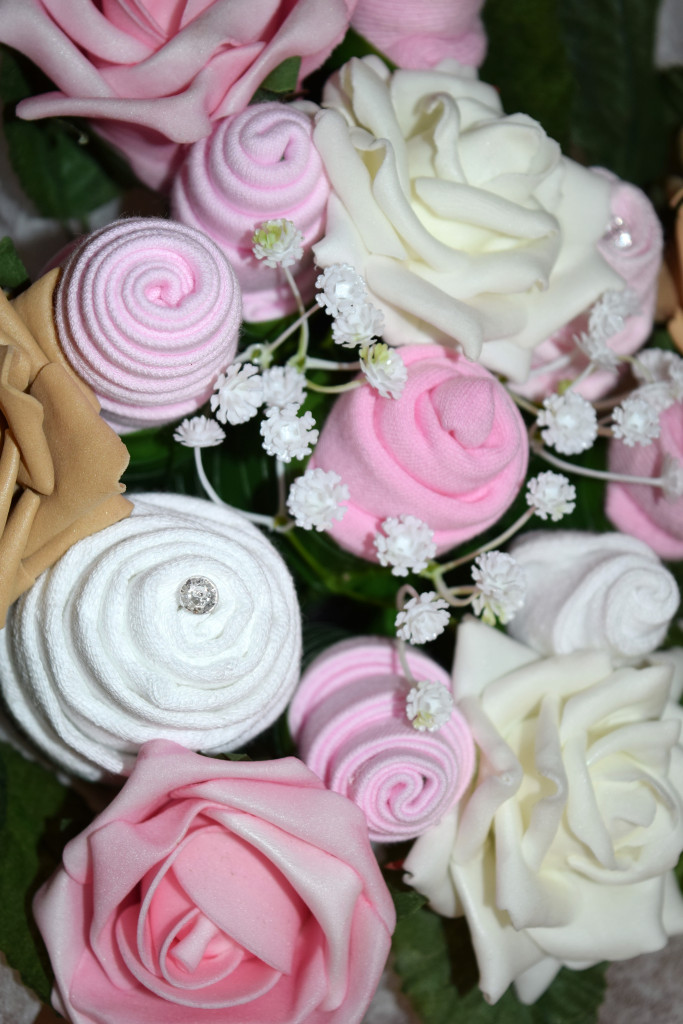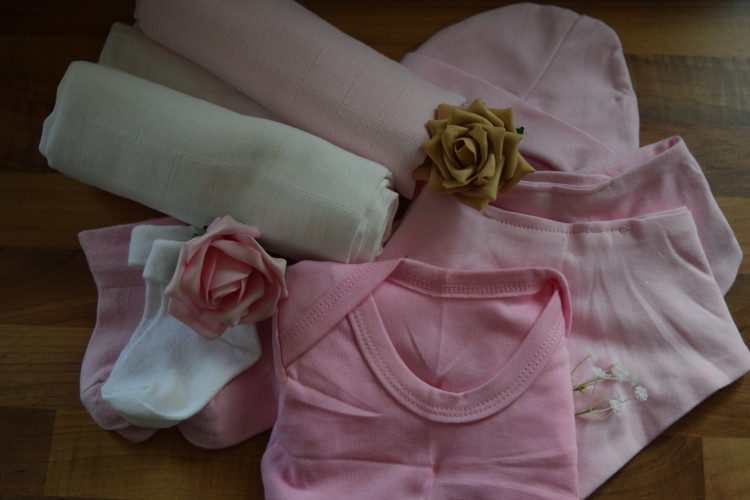 This Welcome Pink bouquet contains 3 pairs of socks, 2 bandana bibs, 1 hat, 1 bodysuit and 2 muslins. All items that are essential in the first few months and will be used a lot more than a frilly outfit. The items all come wrapped in glittery tulle and interspersed with fake roses and baby breath flowers. It even smells pretty when you unwrap it – in fact it was so lovely that I almost didn't want to open it, and it sat on my kitchen table for a couple of weeks before I could bring myself to take it apart!
Corporate baby nappy cake or baby gift box
Along the same lines as the baby clothes bouquet, Corporate Baby offer a selection of nappy cakes and gift boxes tailored to your requirements. With options for boys, girls and surprise bumps as well as the option to make a DIY version to your own tastes, there is something for everyone. I reviewed the Guess How Much I Love You gift box a little while ago, and it is still one of my all time favourite baby gifts – who wouldn't love this box of gorgeous bibs, socks and bodysuits and fluffy bunny?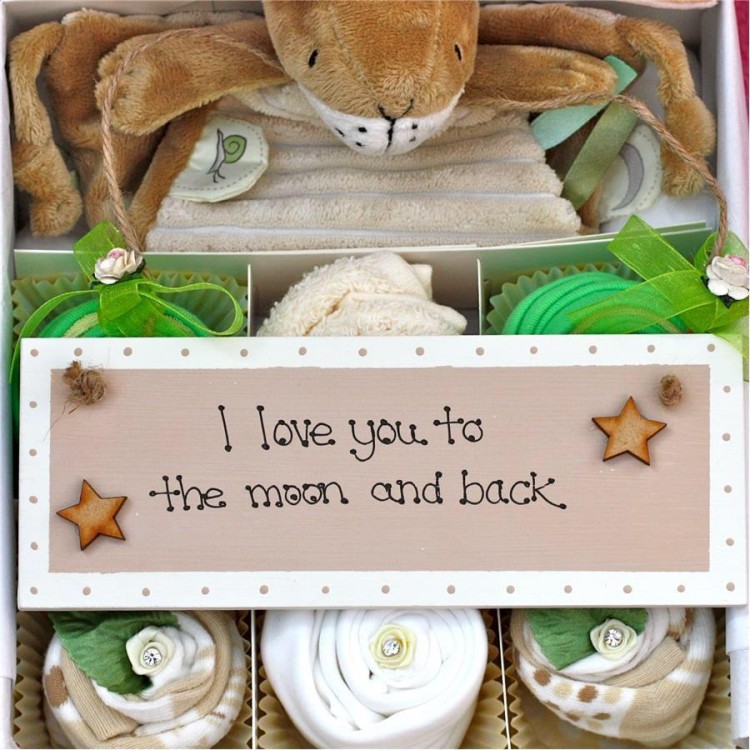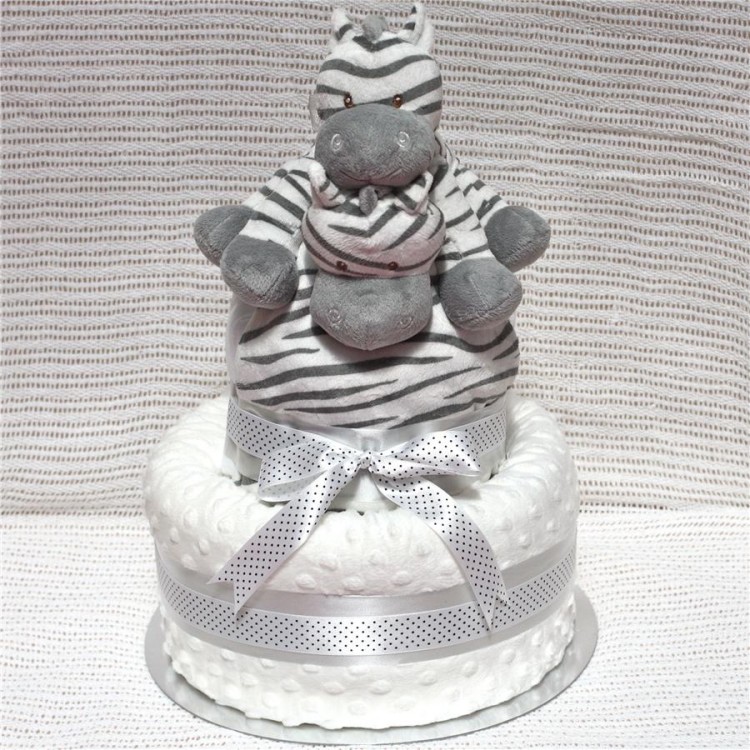 When Max was born I received the Corporate Baby zebra nappy cake. A totally gorgeous stack of goodies, this contains everything from nappies and blankets to muslins and zebra comforters. We have since ordered 2 more of the zebra comforters as Max doesn't go anywhere without his. I think this might have just been the loveliest thing I have ever been given – so much work and tender loving care goes into these nappy cakes and they would be perfect for any new parents – they will never forget receiving one of these!
If you are still stuck for ideas, why not check out my list of top 10 newborn essentials? I think any parent would be over the moon to receive any one of those useful products!
Do you have a fail safe baby gift that you order for new babies? Would love to hear your ideas!