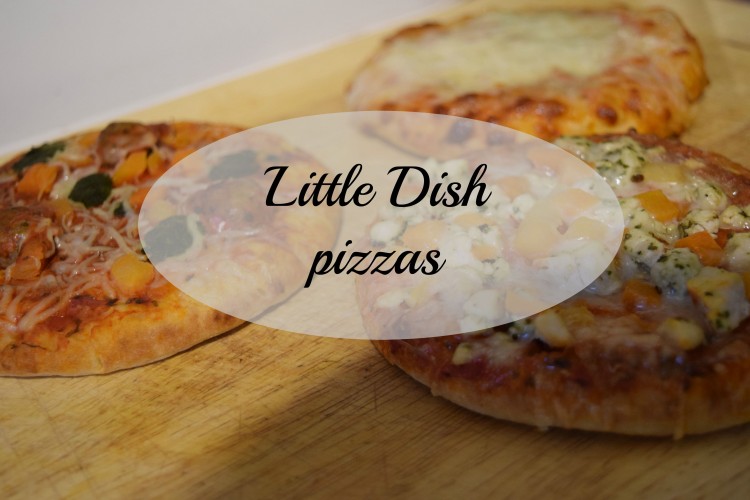 My kids love a pizza – who doesn't? But some of the pizzas you can get in the supermarket are either covered in toppings that they aren't keen on, cost a fortune, are too big for kids or are just packed full of rubbish. I know pizza is a bit of a convenience food, but that doesn't mean it has to be unhealthy – and thankfully Little Dish agree.
We were sent 3 pizzas from the Little Dish ready meals range – Classic Margherita, Mini Meatballs & Veg and Pesto Chicken & Veg. Lovely flavours, and something a little bit different from the usual pepperoni and ham options. Max gave them all the thumbs up.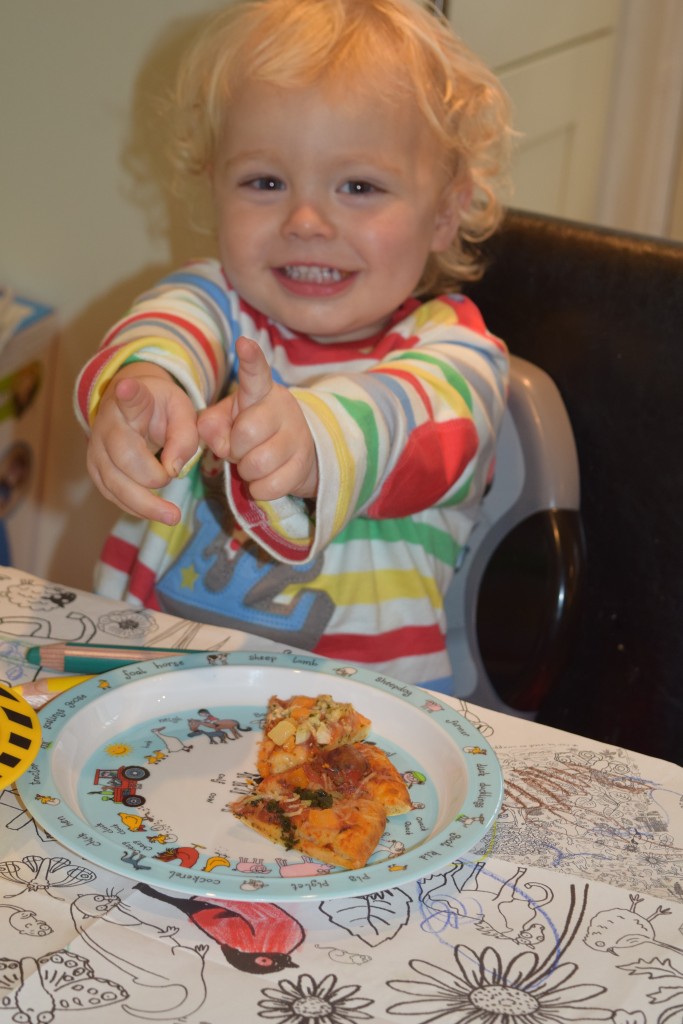 The children all wanted a slice of each flavour, and they didn't have long to wait – these only take 12 minutes to cook from chilled. The Little Dish My First Pizza range are made from 100% natural ingredients and have no additives or preservatives and no added sugar. There is plenty of hidden veg in the toppings – everything from butternut squash to spinach – ingredients you wouldn't normally see on children's pizzas, and ones that some children may not be keen to eat normally. Bet they don't even notice when it's on a pizza though – mine didn't 😉 The bases are all covered in a carrot puree instead of the usual tomato base, so you really can rest assured that these pizzas might be convenient, but they are certainly not an unhealthy option. We served our pizzas with carrot and cucumber sticks and cherry tomatoes so there was plenty of 5-a-day action going on.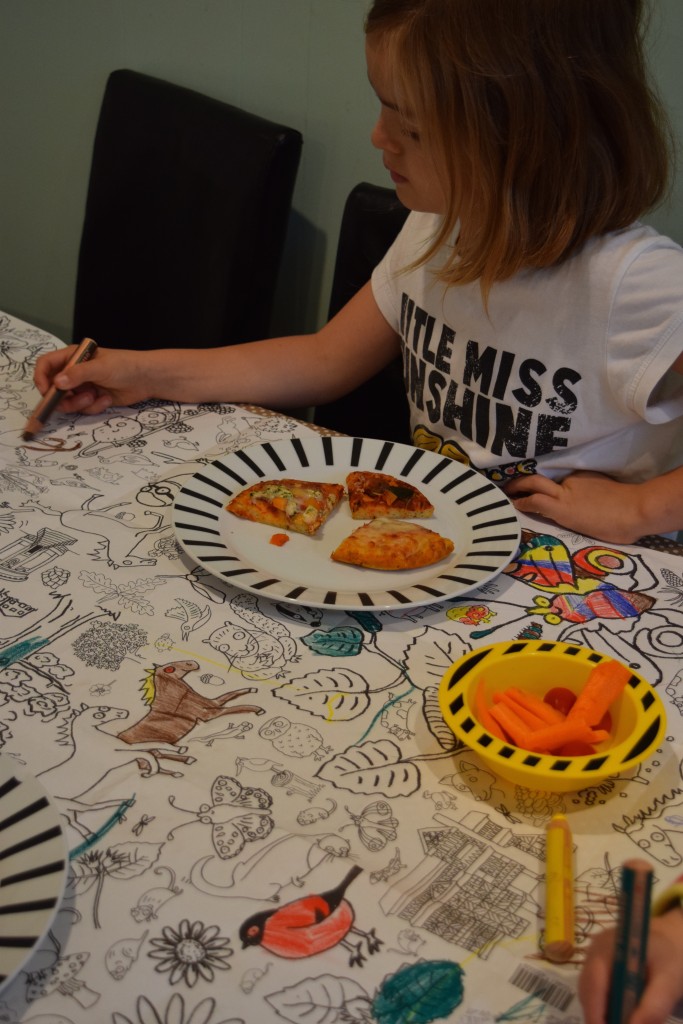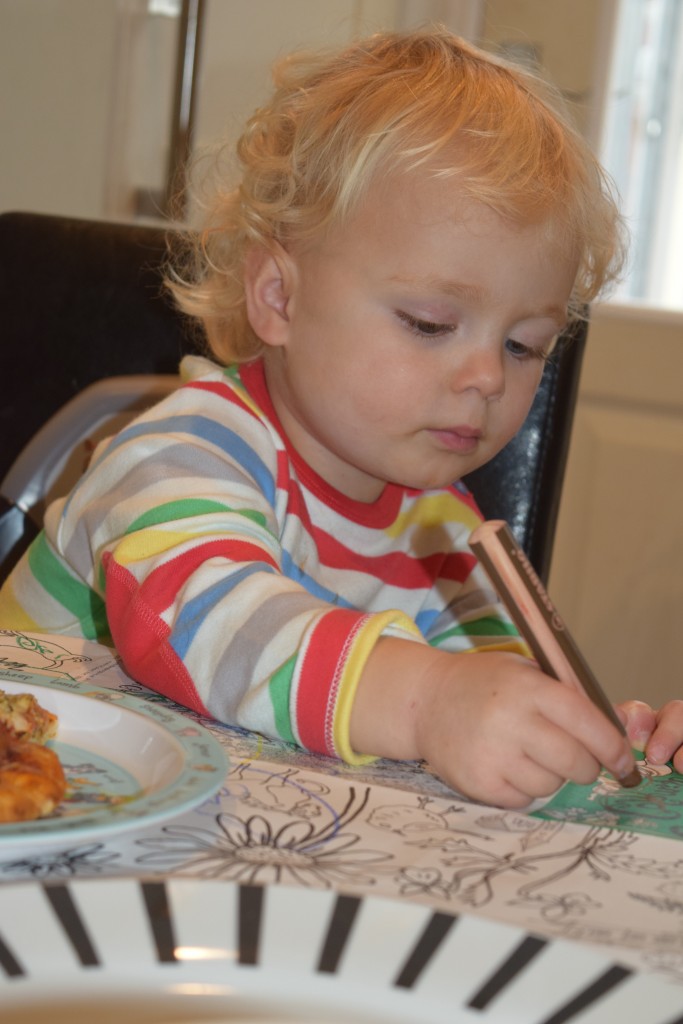 We were also sent a childrens pizza cutter and a colour in tablecloth with crayons, which made for a pizza party which was fun all round. The children all loved colouring in between bites. It's not something I would use every day, as it could serve as a bit of a distraction, but for the purpose of a pizza party it is just perfect.
So the real question is – did the children actually eat and enjoy the pizzas? In a word – yes. There was no mention of the fact that they tasted any different from the usual pizzas we eat – in fact all I heard was a lot of 'mmmm' and 'can I have some more please?' I think they were a success all round. I tried a small piece of each – in the name of research of course – and although I could tell they didn't have the usual base layer, it wasn't a negative at all. It makes it taste a little sweeter, which would appeal to children. The actual bases themselves were soft even after cooking, and I especially liked the chicken and pesto which had a slightly more 'grown up' flavour and was a great way to introduce the children to a new taste.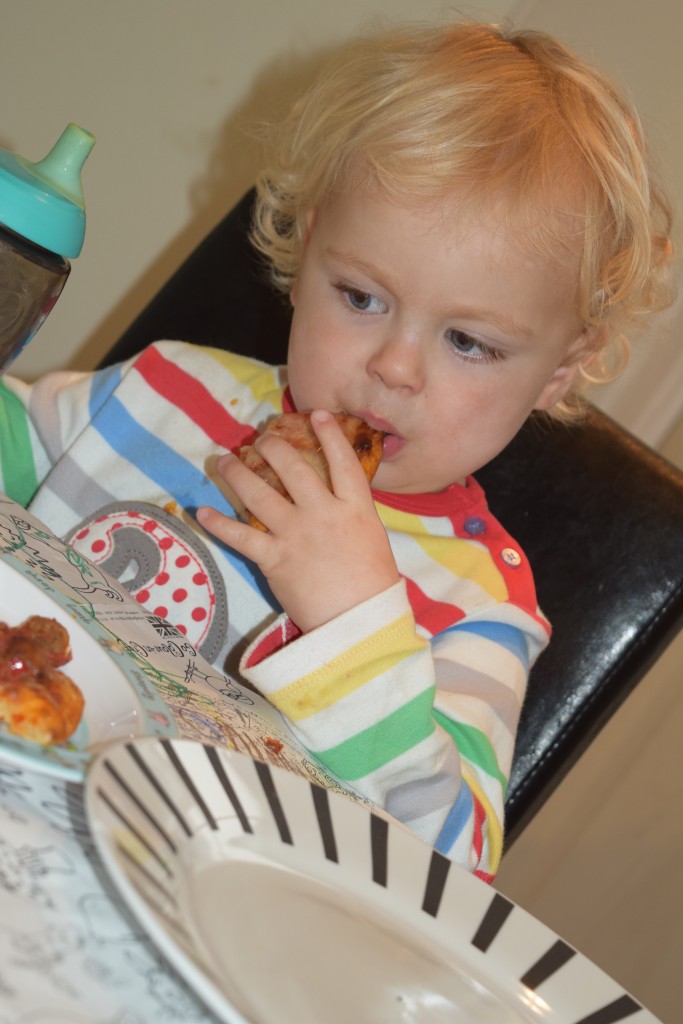 These Little Dish pizzas will definitely feature on our shopping list over the next few weeks – especially as we are about to move house. It means I can have a quick and easy to cook meal in the fridge ready for hungry little tums – and I will know that it is nutritious and full of goodness too.
I am a member of the Mumsnet Bloggers Network Research Panel, a group of parent bloggers who have volunteered to review products, services, events and brands for Mumsnet. I have not paid for the product or to attend an event. I have editorial control and retain full editorial integrity.