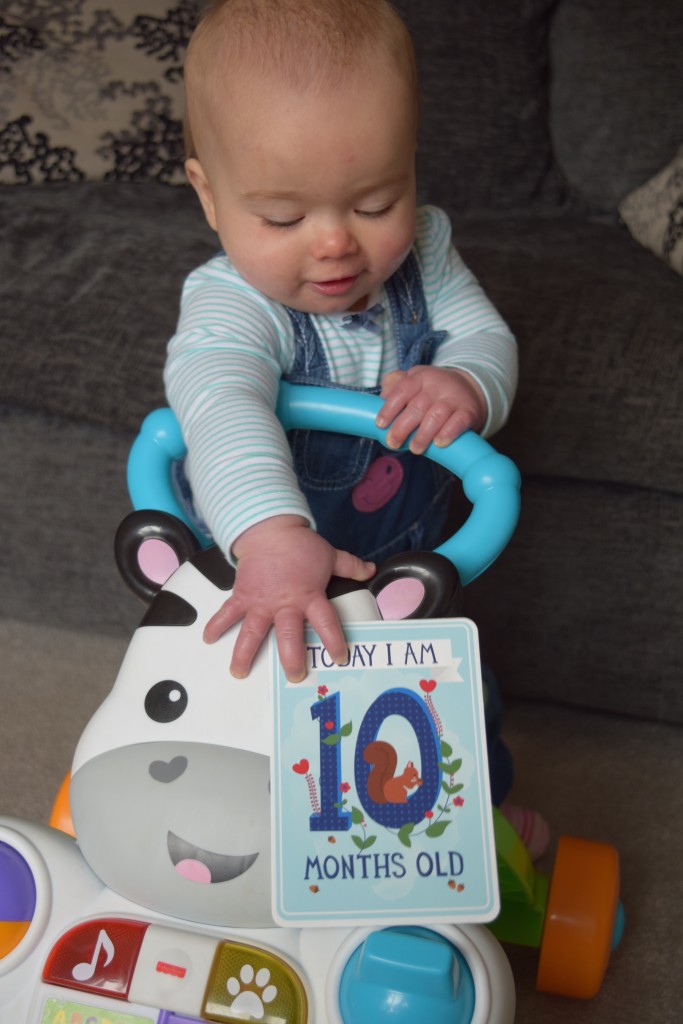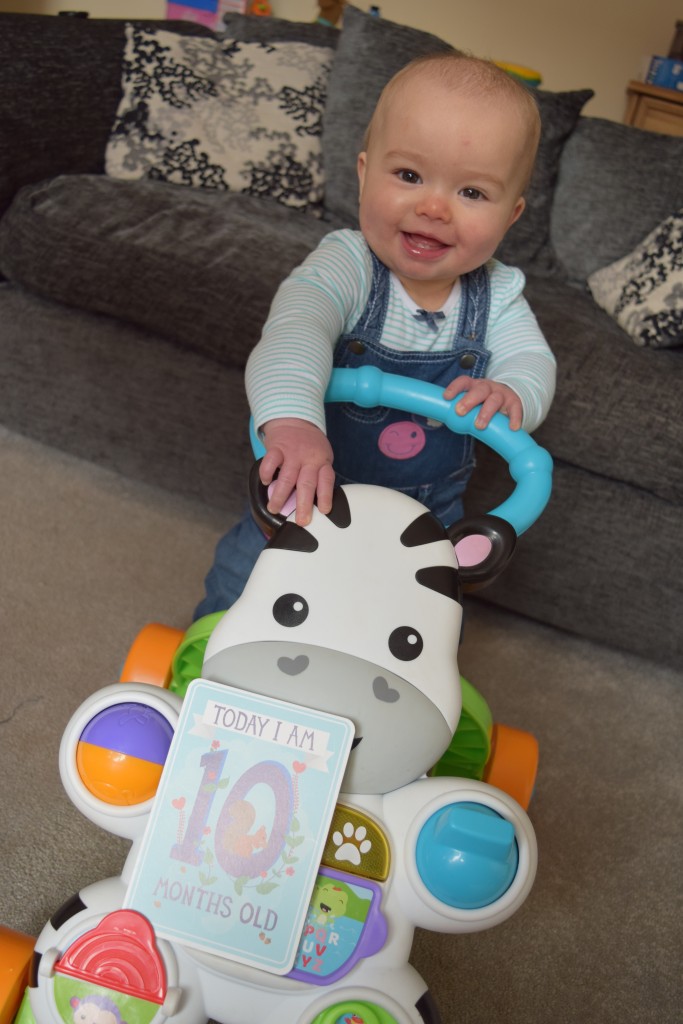 HOW are we at the 10 month mark already? Yes, I know I say this every single month, but the time is passing far too fast for my liking and I cannot believe my baby is well on the way to her first birthday.
Weight: Eliza was weighed during her 9 month health check a couple of weeks ago, and she was 19lb 4oz. She has risen very slightly above the 50th centile now, which the health visitor said was perfectly normal. Her appetite has increased lately, and this has been in line with her learning to crawl – she never stays still now!
Feeding: The girl loves to eat! Honestly, there is nothing Eliza isn't willing to try, and as I mentioned above, her appetite has increased recently – she seems to need a few more calories now she is constantly on the move! For breakfast she usually has weetabix and banana, lunch is a sandwich with some veg sticks and a yogurt and at dinner time she eats her main meal with us. Her favourite is definitely a roast dinner – she shouts at you if you don't get in on the plate fast enough, and Yorkshire puddings hardly touch the side! She is down to just one bottle of formula a day now – about 8oz of HiPP Goodnight Milk before bed. We make sure she has a decent amount of milk products in her diet too.
Sleep: Like me, Eliza seems to be a real fan of bed! She has fallen into a really good routine over the last couple of weeks. She has always been a relatively good sleeper at night, and now goes down at around 7pm and will sleep until around 7am. During the day we usually get 2 naps now – one short one mid morning and a longer one after lunch. It doesn't always work – she only likes to sleep in her cot, so if we are out and about she misses a nap. The other 3 children used to fall asleep in the car but she doesn't do that – she fights it! At bedtime, she kicks her legs and squeals when she sees her Grobag, and happily snuggles down with her Ewan the Dream Sheep.
Likes and dislikes: In Eliza's 9 month update I mentioned separation anxiety – this seems to be on the way out thankfully. Eliza still much prefers to be with me or Kevin, but she will go to other people for a cuddle now, and smiles and chats to people from her pushchair. She loves to be outside, and enjoys watching the other children playing at the park or running around in the garden – it won't be long before she is joining in!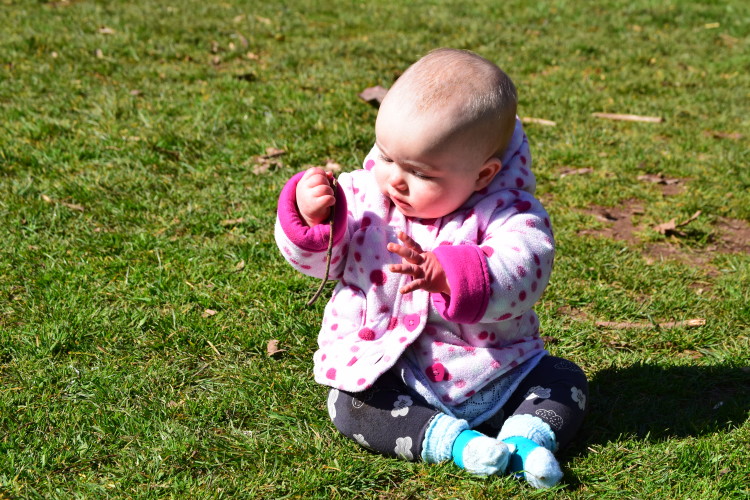 She loves Gemma, Jacob and Max and they are the best at making her laugh – they all have a lovely relationship.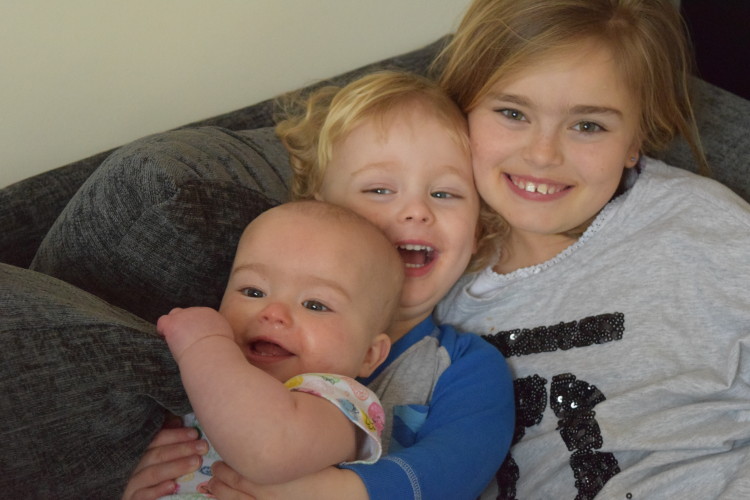 She has really discovered toys lately, and her favourites are bells, a shape sorter and books, although her all time favourite is still the TV remote!
Firsts: This month has been a busy one, with Eliza really growing fast and learning a lot of new skills. She has been crawling for a month now, and gets faster and faster every day now – you have to make sure you don't leave anything on the floor or she will be on it like a shot! If there is anything she can pull herself up on, she will, and she has taken a few steps along behind her walker.
She has found her voice this month too, and babbles all day long – she said 'Dada' for the first time this month!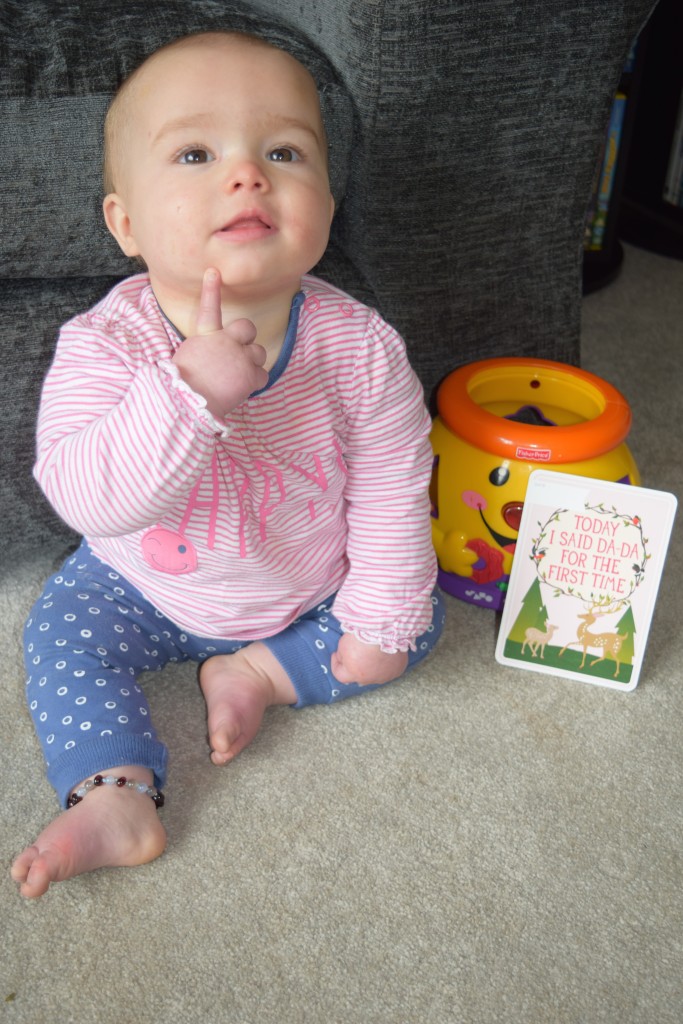 She has learnt to climb too – you honestly can't turn your back for a minute!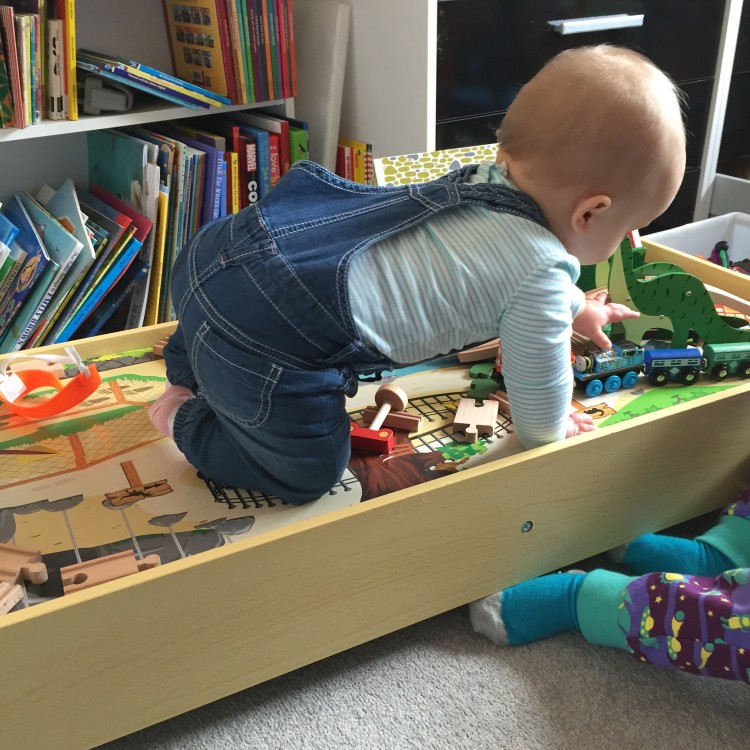 She is such a little character, and she makes me laugh every single day. I am not going to pretend she isn't hard work – because she absolutely is sometimes, especially now she is on the move, but it is so worth it. There is just one more update now before she hits 1 year, and I am so glad I decided to record her first months on here – they will be wonderful to look back on in the years to come.