A couple of months ago, I decided to make some lifestyle changes and try to be a bit healthier overall. I joined a Slimming World group, and have been cooking from scratch a lot more, using heaps more fruit and vegetables. I've tried to choose healthier snacking options too, opting for cereal bars and fruit instead of biscuits.
As part of my healthier lifestyle, I have been exercising more too. Both Kevin and I bought ourselves bikes so that we can cycle more with the children, and I have started the Couch to 5k running plan. I fully expected to detest it, but have actually really enjoyed the chance to get out, get some fresh air and take some time for myself.
Because I have never been a runner, I knew I needed to get the right equipment before I started, and I was sent a selection of running essentials to get me going.
A decent pair of running shoes is essential. I have been using the Nike Lunarglide 8 from Excell Sports. These are supportive road running shoes, with plush Lunarlon foam that cushions your stride and articulated laser cuts in the midsole for a smooth ride. They have flywire cables across the midfoot, to keep them from moving during a run and support the upper arches of your feet.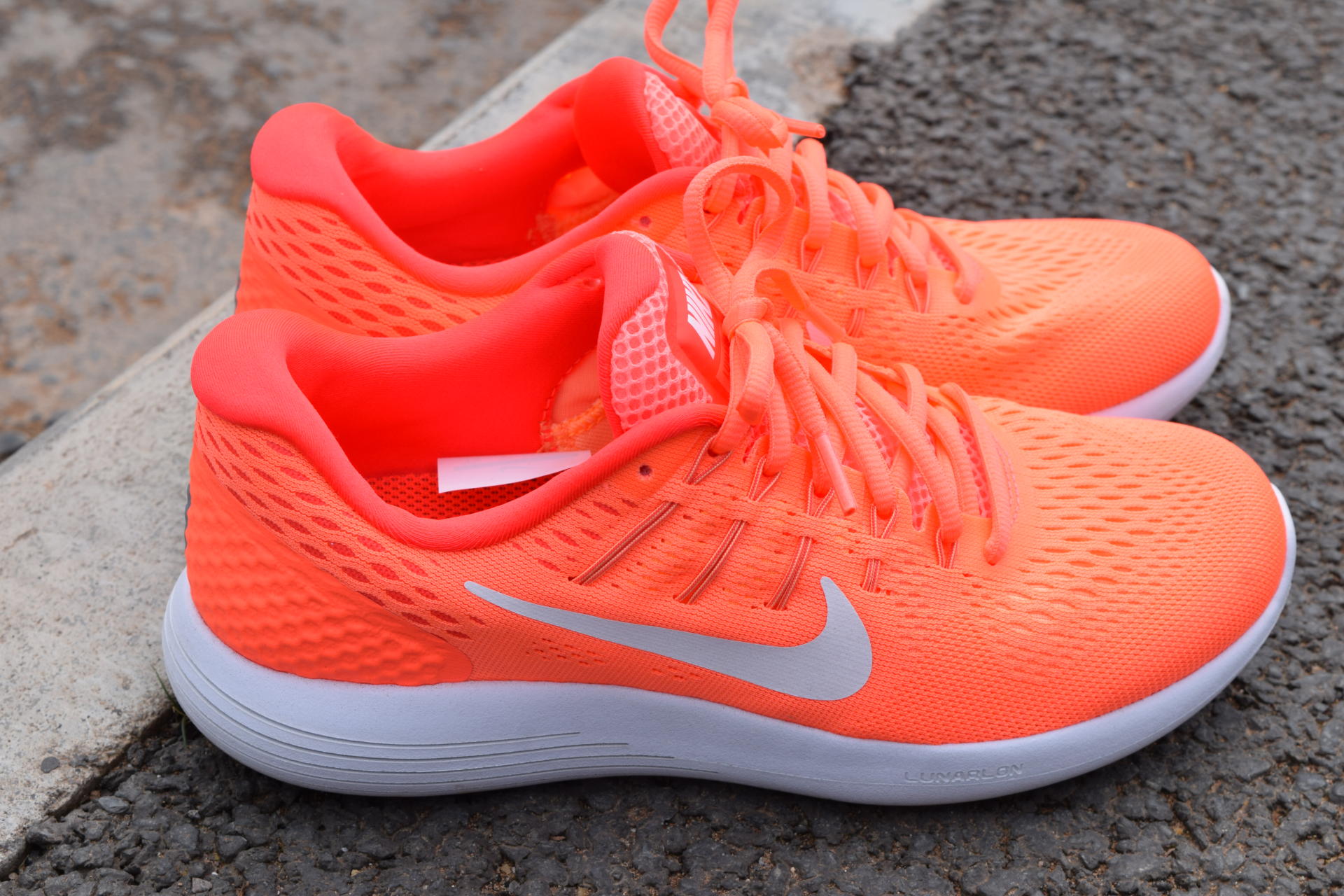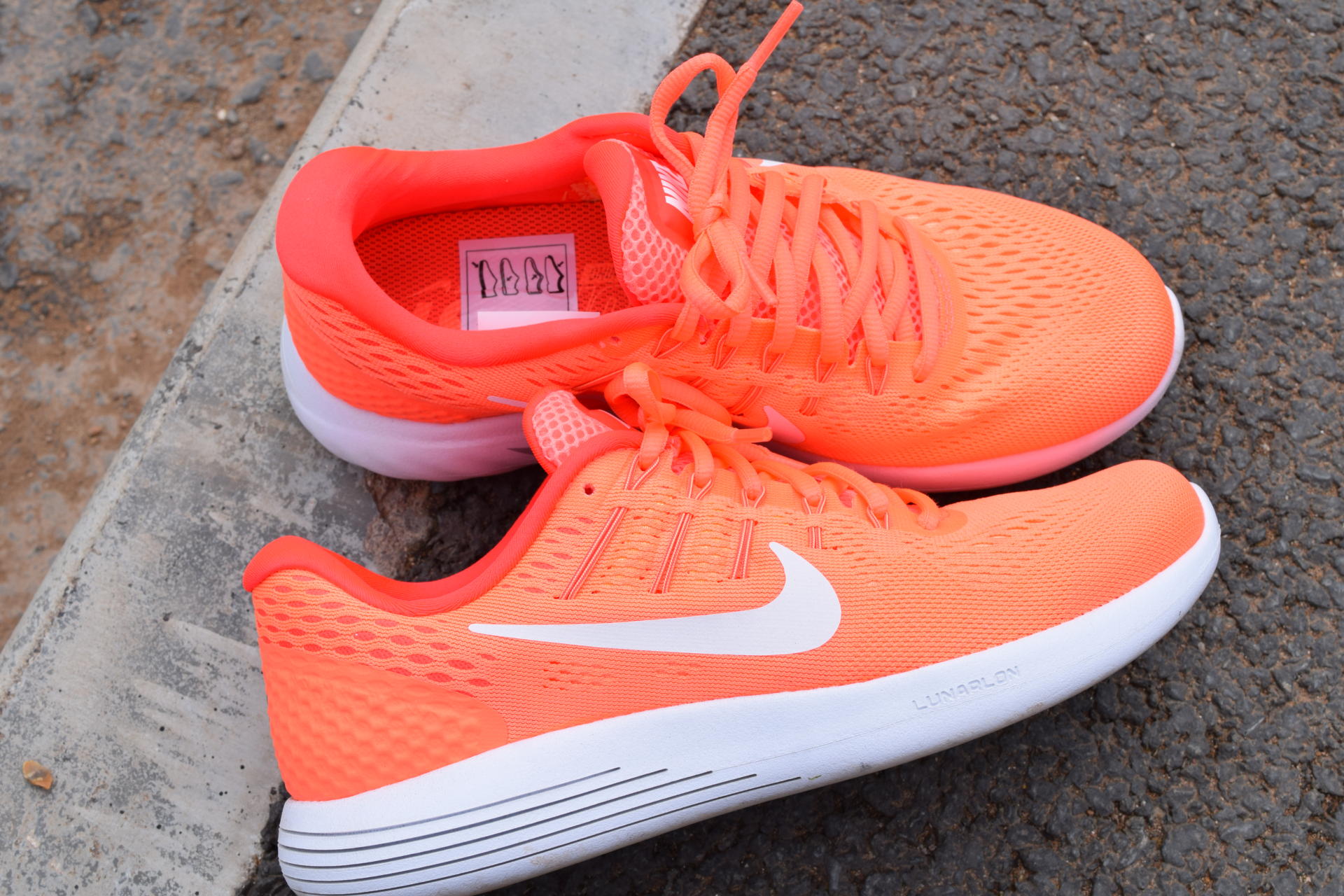 I love the bright colour – be aware that they are much brighter in real life than they appear in the stock images online! They are incredibly lightweight – so much so that you actually forget you are wearing them. The soles are super flexible, and encourage correct foot placement when running on hard surfaces, making you push upwards from the correct part of the sole. They are relatively low grip, as they are designed for road running – so they have enough traction for a rainy tarmac, but you wouldn't want to take them off road too much! The reflective strips on the base make you visible in low light conditions too.
As well as a good pair of shoes, you need something comfortable to wear when running. My current favourites are these running tights and top from Chriselli. The tights are made by Ronhill, and as well as having a lovely design, they feature an elasticated waist, key pocket and moisture wicking material. The top is made by Dare2B, and is perfect for running and cycling. There is an elongated back for coverage and elasticated hem for a perfect fit. It is high wicking, and quick drying, with a ventilated lining system, making it suitable for all conditions. The fabric is anti bacterial, and the full zipper front makes it easy to shrug on and off for a quick run. It is also reflective, which makes it ideal for the darker evenings or early mornings.
Not an essential for everyone, but living in the Devon countryside, these are definitely an essential for me. I have the gorgeous Kanadia 7 trail shoes from DW Sports. Designed to be high traction, these are superb on grass, mud and gravel, whether it is wet or dry. They are super lightweight, and pretty flexible too – although not quite as flexible as a road shoes due to the thicker sole. You really need this thicker sole when running off road, to grip and support, as well as protect your feet from the rougher surfaces.
The top part of the shoes is made from a breathable mesh, allowing air to circulate and preventing your feet from overheating, while the base is waterproof, also keeping your feet dry when running in wet and muddy conditions. The sole features TRAXION grip, to keep you from slipping, and the interior boasts the SUPERCLOUD for comfort when running. The insoles are incredibly cushioned, and feel really soft under your feet.
A good pair of sunglasses is worth having, as the sun can really get in your eyes if you are running in certain directions. I also use an armband (which I just bought off eBay), to keep my phone handy at all times, as I listen to the Couch to 5k app while I run. This is definitely worth downloading if you're a novice, as it gives you cues and tips as you go. Make sure you have a pair of headphones is worth having too, as there is nothing worse than headphones that move or fall off while running. I am using the headphones which came with my phone, and they are actually really good, so don't feel like you need to spend a fortune on special exercise brands. I also invested in a few pairs of running socks from my local sports shops, which feature moisture wicking fabric and cushioned support points on common blister hot-spots. Make sure you have a water bottle too – I have one that fits on my bike, but is actually small enough to carry when running too. Some people are happy to go without a bottle and just rehydrate after a run, but I prefer to have one with me.