As soon as autumn hits, I love getting my boots out, ready for the colder mornings. I am always on the lookout for new boots to see me through the wet school runs and muddy dog walks, while still looking smart enough to wear for work on community days. This year, I have found 2 great contenders.
HOTTER WHISPER BOOTS
I am a huge fan of Hotter shoes and boots, and still wear my trusty Pixie boots a lot. When I saw the new Whisper boots, I knew they would be right up my street. Similar in style to the Pixie boot, these slouch ankle boots have the added bonus of being leather making them the perfect choice for wet autumn days.
The inside of these boots has a warm, textile lining, meaning your feet stay warm and dry no matter what the weather. They have zips on both sides, so they are easy to slip on and off. The sole is supportive and firm, without feeling clompy, and you really do forget you even wearing them most of the time, as they are so comfortable!
You can dress the Whisper boot up or down, making it an ideal all rounder. They are available in a huge range of colours – I've got my eye on the Ruby!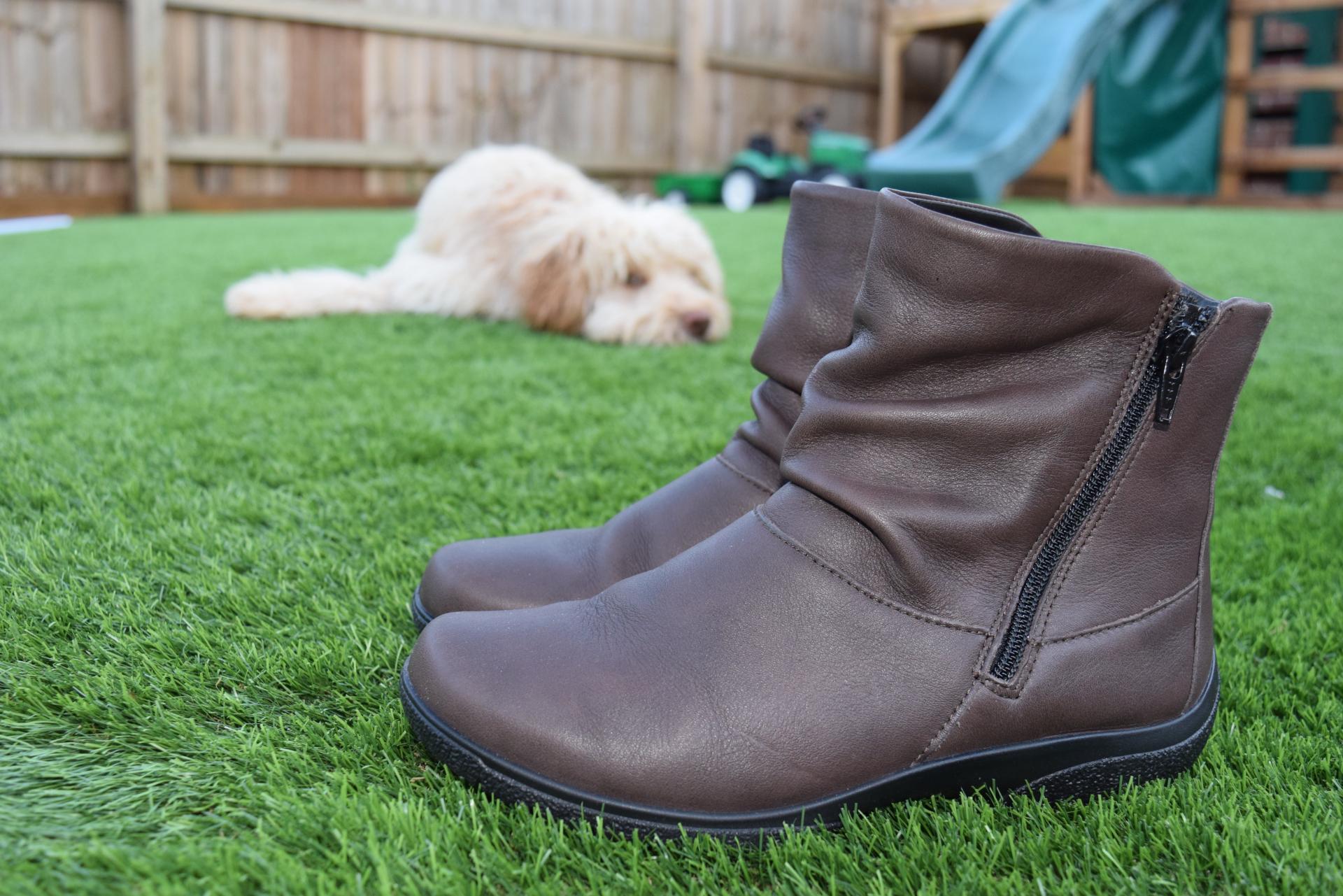 STRIVE CHELSEA BOOTS
Another of my favourite brands is Strive, and their Florida shoes saw me through the spring and summer, keeping my feet well supported and cool. I had never tried a pair of their boots before, so was really looking forward to trying the stylish Chelsea boot.
Made from soft, natural leather, these boots are super easy to slip on and off, due to the stretchy side panel. These boots feature the Strive Biomechanical Footbed Technology, which maps the contours of your feet to improve posture and reduce stress on your feet – ideal if you're on your feet a lot!
The leather outer ensures my feet stay dry no matter what the weather, and the cushioned microfibre sock and mesh lining keep feet warm, comfortable and well supported. You do actually notice the way these boots adjust the positioning of your feet inside, supporting the arch of your foot. It isn't uncomfortable, and after wearing these, and then going back to another style of shoe or boot, you realise how much more supportive the Strive boots are!
The Strive Chelsea boot can also be styled up or down, and looks just as good with a denim skirt and tights as it does with jeans and a jacket. They are available in black or a sand metallic colour, both of which go with pretty much anything!