6 months old. Happy half birthday baby girl.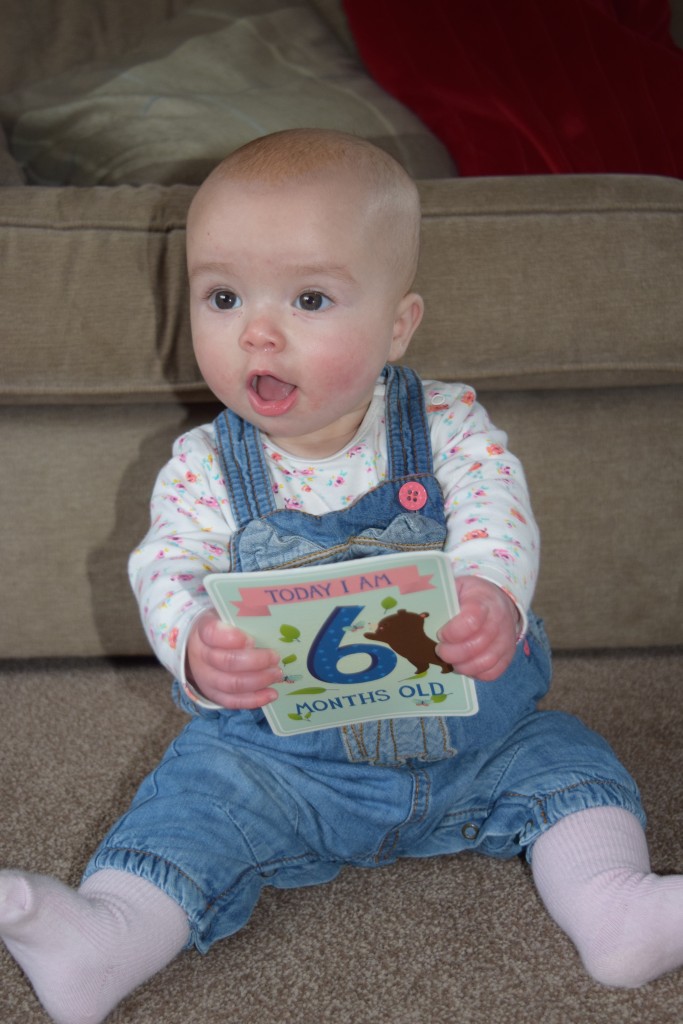 Weight: We went to have Eliza weighed yesterday, and she tipped the scales at 16lbs 1oz. She is following the line on her chart perfectly, and is sitting on the 50th centile. Little Miss Average!
Feeding: Eliza's feeding has really settled over the last month, and we have even introduced solids. Her routine at the moment is a bottle of milk at 6-7am, another bottle mid morning and a fruit based lunch around 1pm. Another bottle between 3-4pm, a vegetable based meal at 5-5.30pm and a final bottle at 7pm. This seems to be really suiting both her and us.
Current food favourites seem to be pears, butternut squash, sweet potato, banana and cucumber. She loves being able to grasp things in her hand so we have been chopping her food up and letting her explore. I wouldn't say she is eating a lot yet, it's definitely more about the discovery still, but it's safe to say she is enjoying it!
Sleep: We hit a bit of a sleep regression between 4 months and 5 months, which seems to be a pretty common thing. She started waking for a night feed again after a good few weeks of sleeping through. This seemed to settle again, and just when we were enjoying a full nights sleep again she went back to waking earlier and earlier – going from a 6am wake up to 5.30am, then 5am, 4.30am and so on. After a good week or so of this we started to introduce a bottle of HiPP goodnight milk alongside solids, and within days she was sleeping through again. She now goes to bed at around 7pm, and wakes anytime between 6am and 7am. We had one morning when she slept until 8.30am – typically this was on a morning when I needed to get the others to school so we had to wake her. She has yet to replicate this on a weekend where I would happily leave her to sleep!
Likes and dislikes: Eliza is still really enjoying our weekly baby sensory class – every week she seems to get more and more out of it. She loves the different textures, lights and songs there, and has become a lot more social lately, smiling and cooing at the other babies.
She is still a big fan of the Jumperoo too, and has finally sussed bouncing, so will now spend ages jumping up and down in there as well as hitting all the toys. We have had to pack away the play mat now, as she just rolls off the mat and tips over the toy bar. She loves being on the floor now, rolling all over the place, but she does much prefer to be sat up now. She can see what Gemma, Jacob and Max are up to this way, and she loves being a bit more independent and reaching out for the toys she wants to play with. She loves it when the older children play with her and gets so excited by it, waving her arms around and squealing with excitement!
As for dislikes, there isn't really a lot. She is getting less and less keen on being in her car seat – I don't think she likes the feeling of being restrained now that she has found her freedom! It's the same story with her swing seat too, and I don't think it will be long before that one has to go!
Firsts: This month has been a big one for firsts! Eliza had her first taste of solid foods at 5 and a half months – we tried her with banana the first time and it went down really well. Just last week she sat up for the first time – a huge milestone in the baby world, and one she is really pleased about – you can see in her face how excited she is to see the world from a different angle!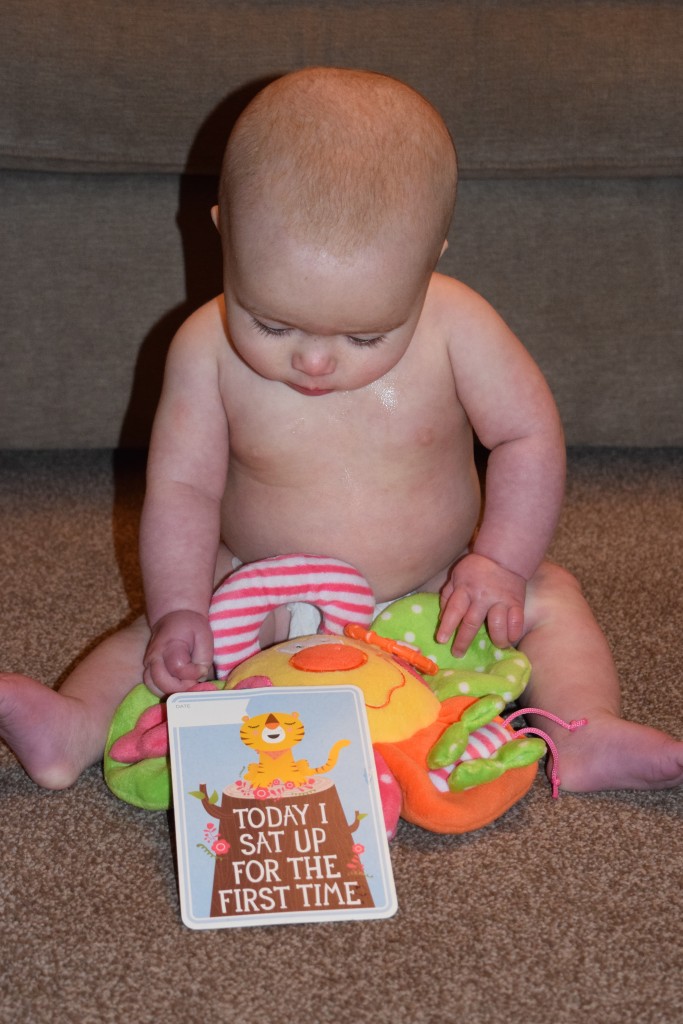 Next month she will be 7 months old. We will be living in our new house and we will have celebrated her first Christmas. I wonder what else the next 4 weeks will bring?