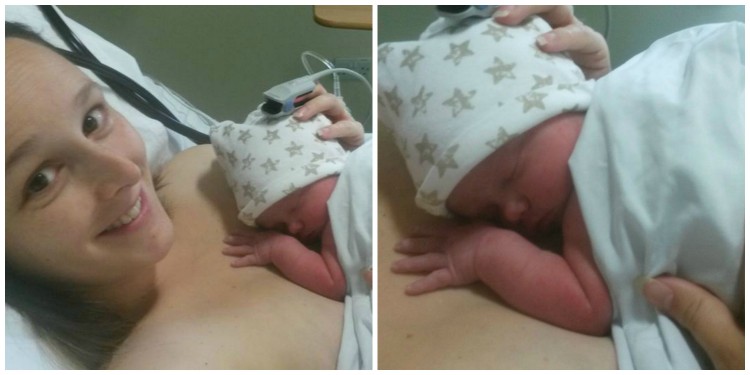 This month is Caesarean Awareness Month, and I have decided to share my 4 very different caesarean experiences. You can read my first birth story (the crash section) here, and how my second baby was born by premature section at 34 weeks here. My third birth story tells of my early section at 36 weeks, and you can read that one here.
After Max's birth, we knew we wanted one more baby. Gemma and Jacob are 2 years apart and have a fantastic relationship, and we wanted Max to have a brother or sister around his age, to be his playmate, his partner in crime and his confidante. I fell pregnant fairly soon after we started trying, and enjoyed the first half of my pregnancy, apart from some morning (or all day) sickness.
We didn't find out the sex this time – the only one of our four babies to be a surprise – and we had a fantastic 4D bonding scan at 28 weeks.
As with my other pregnancies, I measured large for dates from about the half way point – but this time I measured FAR too big. I was put onto weekly doppler scans to check the flow of blood through the umbilical cord, and fortnightly growth scans. I was diagnosed with polyhydramnios (excess amniotic fluid) and closely monitored. My consultant came to see me at my 32 week appointment and actually said "I think your baby will make an appearance sooner rather than later – be prepared". I was terrified!
From that point I was in and out of hospital a lot. For scans and consultant check ups, and at 34 weeks I was admitted to hospital in suspected labour. I was given 2 doses of steroids to help strengthen the baby's lungs and a pre-term labour swab tested positive. There was a good chance I was going to go into labour early again. I wasn't ready – I SO wanted a chance at holding my baby after birth, a chance to avoid SCBU.
I managed to hang on until 36 weeks and 2 days, when my waters went. There was no doubt at that point that baby was coming. Everything was a blur – I remember being told to get onto all fours on the bed in case of cord prolapse. I remember being wheeled down to theatre for the epidural, knowing that Kevin wasn't there and that he was going to miss it. He did.
At 6.03pm, my beautiful baby girl was lifted into the world. At 6.05pm, Kevin burst into the theatre. He was able to cut the cord, he was able to see her, pink and healthy. She was placed on my chest while I was stitched up, and Kevin wheeled her into recovery in her little cot. We had done it. A baby in our arms rather than in a SCBU cot.
Because she was a little premature, her blood sugar levels were monitored closely – they were too low at one point, but we fed and fed and fed and within a day they had shot right back up. 2 days after her birth we came home with our little girl. I still felt like I had failed her by not keeping her in for longer, not making it to term, but I am so grateful that she was born so well. Finally, after 4 pregnancies and 4 C sections I had given birth to a baby who was able to stay with me.
Eliza is now a mischievous, inquisitive 10 month old who brings a smile to our faces every single day. We are incredibly lucky, and our family is complete.